Petrobras new management to be elected on Friday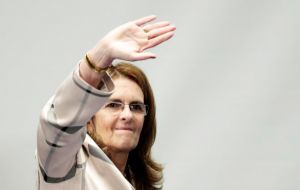 The chief executive and other senior management at Brazil's Petrobras officially resigned on Wednesday amid a festering corruption scandal, sending shares higher as the government scrambled to find replacements capable of restoring investor confidence in the state-run oil company.
The firm's board of directors will meet on Friday to elect a new management team to replace CEO Maria das Graças Foster and five other senior directors, Petrobras said in a securities filing.
Petrobras shares rose more than 6% in trading in Sao Paulo on the news, extending a more than 15% gain on Tuesday that began with reports that Brazilian President Dilma Rousseff had decided to dismiss Foster.
Investors have been betting that new leadership will help restore credibility to the scandal-tainted firm and ramp up production and boost profits.
Pressure has been mounting on Rousseff to clean up Petrobras, whose reputation suffered with the arrest and testimony of three former senior executives and three dozen others, including executives of major suppliers.
Police say they have uncovered a price-fixing, bribery and political kickback scheme that allegedly benefited Rousseff's ruling Workers' Party as well as others.
The illegal activity, authorities allege, diverted at least 3.7 billion dollars and perhaps more than 28bn from Petrobras coffers.
Petrobras admitted last week that the corruption was one of several factors that helped wipe out a net 61.4 billion Reais (almost 30bn dollars) from the value of its assets, such as refineries and oil platforms, but it refused to take a charge against earnings.