Market reacts negatively to Petrobras new CEO: too political and too close to Rousseff
Friday, February 6th 2015 - 23:27 UTC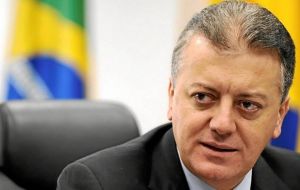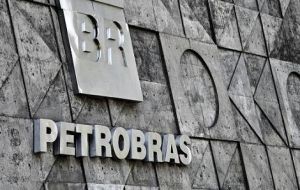 Shares in Brazil's oil giant Petrobras plunged Friday as banking executive Aldemir Bendine, who is seen as too close to President Dilma Rousseff's party, was named the scandal-hit firm's new chief executive.
Petrobras, the largest company in the world's seventh-largest economy, has been thrown into crisis by allegations that executives colluded with construction firms to steal at least 4 billion dollars from its coffers, with some of the cash being paid out in bribes to politicians -mainly the ruling Workers Party and members of Rousseff's coalition.
Petrobras shares fell nearly 8% on the Sao Paulo stock exchange after initial media reports - later confirmed by the company - that Bendine would take the helm, as investors registered disappointment that the post would not go to a non political technical expert. Bendine, 51, is currently the chief executive of state-controlled Banco do Brazil.
He has said he is not affiliated with any political party, but is seen as too close to Rousseff's Workers' Party (PT) and her predecessor and mentor, Lula da Silva. He has spent 32 years at Banco do Brasil, the largest bank in Latin America, where he started out as a 14-year-old intern and rose through the ranks to become CEO in 2009.
"Bendine is a career Banco do Brasil professional, a trusted ally of ex-president Lula da Silva. So his appointment maintains the political connection with the PT, which the market didn't like," said economist Eduardo Velho. "The market was hoping for someone with more ties to the private sector".
Ex-CEO Graca Foster resigned on Wednesday over the scandal along with her entire board of directors. She had weathered the kickback allegations for nearly a year with Rousseff's backing, but her position grew increasingly untenable as Petrobras repeatedly delayed the release of its third-quarter results.
They were finally published last week, but without undergoing an external audit or stating the company's losses due to corruption. That kicked off a devastating week in which the company was downgraded by two ratings agencies and lost nearly 9 billion in stock value.
The state-controlled firm's new chief executive will have to "isolate himself from the political crisis" and "rescue the company's credibility with the markets," said Edmar Fagundes de Almeida, an energy economist at Rio de Janeiro Federal University.
Petrobras has also been hit hard by tumbling oil prices, a separate controversy over its 792 million dollars loss on the purchase of a refinery in Pasadena, Texas, and an investigation of the kickbacks scandal by the Securities and Exchange Commission in the United States, where the company is also listed on the New York stock exchange.
The scandal has meanwhile spread dangerously close to Rousseff, who was sworn in for a second four-year term on Jan 1. Rousseff chaired the Petrobras board from 2003 to 2010, during much of the period under investigation.
On Thursday, the treasurer of the Workers' Party, Joao Vaccari Neto, was detained for questioning in the graft probe before being released after several hours. Brazilian media reports say suspects arrested in the investigation have told police that Vaccari funneled illicit cash from Petrobras to the party. A total of 62 people have been summoned for questioning.
The oil firm's former engineering chief, Pedro Barusco, reportedly told investigators that the party received between 150 million and 200 million skimmed off the 90 largest Petrobras contracts from 2003 to 2013, and that Vaccari "participated" in the scheme.
Apparently the rule was a fixed 3% on each contract. The scheme is not different from that during the Cold War years which was implemented by Italy and the late Soviet Union: 1% of bilateral trade was to help fund the Italian Communist party.
However Vaccari's lawyer said his client had always acted in "absolute compliance with the law." The Workers' Party also rejected allegations of wrongdoing.
The release from Petrobras states that "its Board of Directors, in a meeting held today (Friday), has approved with majority vote the election of Aldemir Bendine as CEO of Petrobras replacing the current CEO, Maria das Graças Silva Foster.
Maria das Graças Silva Foster is also leaving the Company's Board of Directors, which elected Aldemir Bendine as its new Director. This election, according to the provisions of the Brazilian legislation and Petrobras' by-law, is valid until the next General Shareholders Meeting.
Aldemir Bendine was CEO and member of the Board of Directors of Banco do Brasil. He has a bachelor degree in Business Administration from PUC-Rio, and a MBA degree in Finance and General Training for Senior Executives.
The Board of Directors also elected, with majority vote, Ivan de Souza Monteiro, as Chief Financial Officer and Chief Investor Relations Officer, in replacement to Almir Guilherme Barbassa. Ivan Monteiro was the Senior Vice President of Financial Management and Investor Relations of Banco do Brasil since June 2009, where he had already served as Commercial Officer, Senior Vice President of Finance, Capital Markets and Investor Relations, and also as Chairman of the Supervisory Board of BB AG. He has a bachelor degree in Electronic Engineering and Telecommunications from INATEL-MG and MBA degree in Finance and Management".