Falkland Islands Holdings David Hudd steps down; new chairman is Edmund Rowland
Tuesday, February 10th 2015 - 03:51 UTC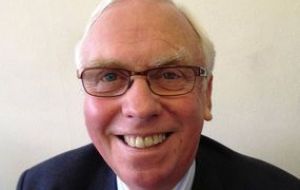 Falkland Islands Holdings chairman David Hudd has resigned from the board with immediate effect and been succeeded by non-executive deputy chairman Edmund Rowland, it was reported on Monday. John Foster continues as group managing director.
Hudd said: "Since I became chairman in 2002 we have developed the Group from its sole focus on the Falkland Islands, to an international services business as a result of two excellent acquisitions.
"I believe that the time is right to hand over to a new, younger chairman in order that the group can take full advantage of the opportunities available to it.
"In the year ended 31 March 2014, we generated record profits and at 30 September 2014 the group had surplus cash resources of some £4m. The Falkland Islands Company is well placed to take advantage of the growth which will come in due course from the existing oil discoveries and in the next few months the group has exposure to the oil exploration drilling program through its shareholding in Falkland Oil & Gas.
"I have total confidence in the future of the group and am pleased to be able to hand over to Edmund whose interests have already made a substantial investment in the group."
Incoming chairman Rowland said: "The board and I would like to thank David for his energetic and sure footed contribution to the development of the group. Our Falkland Islands business has been modernized and is well placed to benefit from oil exploitation and future production activities. The Portsmouth Harbor Ferry Company has a modern fleet and improved shore facilities while our industry leading art logistics business Momart, is investing to capitalize on its success. "I believe there are opportunities to expand the group further and The board and I believe we have an exciting future in prospect."
Falkland Islands Holdings (FIH) is quoted on AIM (Alternative Investment Market), incorporated in the United Kingdom, with operations in the Falkland Islands and the UK. Its business activities in the Falklands are conducted by The Falkland Islands Company, FIC, established by Royal Charter in 1852. FIC's activities include retailing, property, insurance, hotels, shipping and fishing agency services.
In the UK the group operates a long established passenger ferry service across the mouth of Portsmouth harbor, Portsmouth Harbour Ferry Company (PHFC) On 5 March 2008 the group acquired MOMART, a market leader in the handling and storage of fine art and antiquities
In June 2004, Falkland Oil and Gas Limited (FOGL) was established with financing to carry out a 2D seismic survey over its extensive offshore licence to the South and East of the Falklands. FOGL is an AIM-listed oil and gas exploration company. FOGL is exploring two large licence area covering c.40,000 square kilometers with its co-venture partners Noble Energy and Edison International.