S&P downgrades Venezuela long term credit rating to CCC
Tuesday, February 10th 2015 - 05:45 UTC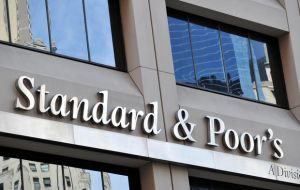 Ratings agency Standard and Poor's on Monday downgraded Venezuelan long-term credit ratings to CCC from CCC+, citing falling oil prices and the government's failure to address economic distortions.
S&P said Venezuela's economy could shrink 7% this year, with further contraction possible in 2016. It added inflation could reach 100% or more this year, primarily as a result of continuing shortages of basic goods.
"We believe pressure is growing for the government to reschedule some of its market debt or undertake a liability management operation to refinance some of its maturing debt over the next year or two," S&P said in a statement.
Venezuela's three-tiered exchange control system and hefty fuel subsidies are seen draining the country's international reserves and reducing its ability to service foreign debt.
Its bonds are trading at distressed levels with annual yields between 20 and 53%.
S&P added that it sees a one-in-two chance that in 2015 or 2016 it could lower Venezuela's sovereign credit rating to "selective default," which could be the result of "a debt exchange undertaken in distressed circumstances."
Venezuelan bonds have rebounded since last week as oil prices picked up. The country's Global 2027 was up 3 points on Monday to yield 23.439 percent.
President Nicolas Maduro has vowed to honor commitments and dismissed default talk as rumor-mongering by enemies. And many Wall Street investors continue to hold Venezuelan securities, noting Venezuela's sizeable oil reserves and its strong track record of paying its debt.