Argentina reports sharp fall in hake, squid and shrimp landings during January
Friday, February 13th 2015 - 09:44 UTC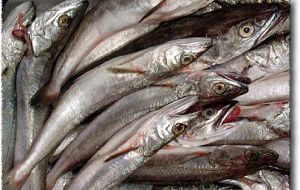 Argentine fish landings have dropped dramatically during January, totaling 16,464 tons, 31.8% less than a year ago when the volume was 24,121.4 tons. Of this year's volume, 11,803.8 tons were of fish, 4,567.4 tons crustaceans and 92.8 tons shellfish, according to statistics from the Under-secretariat of Fisheries and Aquaculture.
Fish landings reduced 19.7% when compared with 14,691.4 tons in January 2014. Regarding mollusks, they were down 84.7%, compared to 604 tons last year. As to crustaceans, the decline was 48.3%, compared to 8,826 tons in January 2014.
According to data released by the Under-secretariat the largest landings until 30 January 2014 were hake (Merluccius hubbsi), with 5,172.3 tons, which represents a fall of 38.5% compared to the 8,406.2 tons landed the first month of last year.
Shrimp (Pleoticus muelleri) landings totaled 4,343.2 tons, 47.5% less than in the same period of 2014 (8,265.8 tons). Finally 84 tons of squid (Illex argentinus), that is 60.5% down compared to 212.6 tons January 2014.
In addition, 85.5 tons of hoki (Macruronus magellanicus), 740.8 tons of striped weakfish (Cynoscion striatus), 525.4 tons of Patagonian flounder (Paralichthys patagonicus), 152.2 tons of narrow-nose smooth-hound (Mustelus schmitti) and 305.6 tons of red porgy (Pagrus pagrus) were landed in Argentine ports.
Mar del Plata (Buenos Aires) continued top of fisheries stats with 10,051.5 tons of fish. Rawson (Chubut) ranked second, with 4,323.1 tons; followed by Ushuaia (Tierra del Fuego), with 779.3 tons; Comodoro Rivadavia (Chubut), with 617.1 tons; San Antonio Este (Rio Negro), with 318.9 tons; Puerto Deseado (Santa Cruz), with 228.3 tons; and Puerto Madryn (Chubut), with 145.3 tons.
The coast fleet reported the highest level of catches followed by fresh fish vessels; surimi vessels; trawlers and bay/estuary vessels. (FIS).-