Falklands image in National Geographic Traveller photo competition
Friday, February 13th 2015 - 09:32 UTC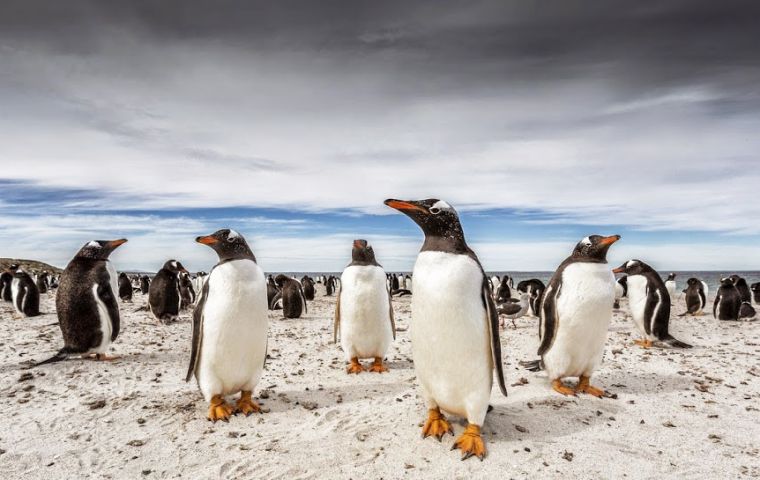 National Geographic Traveller (UK) has confirmed the finalists of its fourth Photography Competition 2015 which in the Animal category includes an image of penguins at Bleaker Island in the Falklands.
The grand-prize winner will be announced at the Telegraph Outdoor Adventure & Travel Show on 14 February, and for the first time ever, the shortlisted entries are available to buy through a unique collaboration with the print space.
As a leader in breathtaking, you-are-there photography, National Geographic Traveller launched its annual photo competition last September, sponsored by theprintspace, Viking River Cruises, Foto Ruta and Tatra Photography.
UK photographers submitted their entries in one of six categories: Action, Animal, People, River, Rural, and Urban.
Pat Riddell, Editor, National Geographic Traveller said: "We've been incredibly impressed with the response to our annual Photography Competition, with a phenomenally high standard of creativity and photographic quality."
The winner will be announced at the Telegraph Outdoor Adventure & Travel Show at London's Excel at 2.30pm on 14 February. They will win the grand prize sponsored by Tatra Photography of a wildlife photography tour for two in the Masai Mara National Reserve in Kenya.
All six category winners have won a year's subscription to National Geographic Traveller and a place each on Foto Ruta London's flagship photography excursion Foto Ruta Clue.
The six finalists (category winners) Action: Yanick Targonski and his shot, Train from Ella to Kandy, Sri Lanka. Animal: Barry Robertson and his image, Bleaker Island, in the Falkland Islands. People: Alecsandra Raluca Dragoi and New Year's Traditions, taken in Comanesti, Romania Rural: Chris Miller and Son Doong Cave, shot in Phong Nha-Ke Bang National Park, Vietnam. Urban: Philip Braude with his image Urban Trees, London. (pictured) River: Claire Carter and Reflections on a Melting River, in Rio de las Vueltas, Argentine Patagonia.
The winner of the River category has won a place on Viking River Cruises' eight-day Romantic Danube itinerary.