Chilean president's son resigns amid questions about family business
Saturday, February 14th 2015 - 06:41 UTC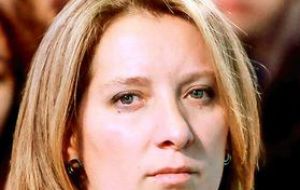 Chilean President Michelle Bachelet's son resigned Friday from an unpaid post in her administration amid questions about his wife's business affairs.
"I decided to step aside and resign my position as socio-cultural director of the presidency," Sebastian Davalos told reporters at La Moneda palace. "I want to emphasize that I have committed no crime or offense, as some media outlets have suggested," he said, declining to take questions.
Chilean financial regulators found no irregularities in connection with a $10.4 million bank loan to Davalos' wife, Natalia Compagnon, for a real estate venture, Pulso newspaper reported earlier Friday.
The Office of the Superintendent of Banks and Financial Institutions, known by the initials SBIF, reviewed every detail of the transaction between Banco de Chile and Compagnon's firm, Caval Limitada, Pulso said, citing comments from chief regulator Eric Parrado.
Banco de Chile, the Andean nation's No. 2 bank in terms of assets, is jointly owned by Chilean conglomerate Quiñenco and U.S.-based Citigroup.
"SBIF has not found legal or regulatory violations that could pose a risk to depositors and the bank's solvency," Parrado said.
The loan to Compagnon raised concerns about possible influence-peddling and the use of privileged information, as Caval Limitada had assets of only 6 million pesos (less than $10,000) and the stated purpose of the loan was to acquire rural land that was supposed to be re-zoned for urban use. The zoning change never took place.
Critics pointed to a meeting between Davalos with Banco de Chile Vice President Andronico Luksic before the loan was approved.
The loan was executed in December 2013, one day after Bachelet, who had previously governed from 2006-2010, won a second term as president.
Davalos released a financial disclosure statement this week.
Bachelet's government has distanced itself from the issue, calling it a matter between private parties and urging Davalos to provide the appropriate explanations.
Opposition politicians had demanded Davalos' resignation and said they will ask prosecutors to open an investigation of the loan to Compagnon's company.
La Tercera newspaper reported Thursday that Caval closed a deal this week to sell the lands acquired with the loan. Caval will net $4 million after repayment of the principal and interest to Banco de Chile, the daily said.