Cruise industry leaders set course for annual global event March16/19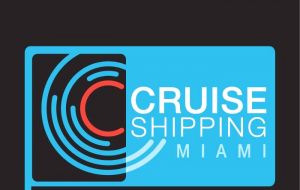 Cruise Shipping Miami's State of the Industry session, which sets the course of the cruise industry's premier annual event is scheduled for March 16/19 at the Miami Beach Convention Center and will feature the chief executives of the world's largest cruise companies in a wide-ranging discussion of the health and future of the global cruise business.
"Recently, we have seen significant changes in the cruise industry, with brand consolidations and new faces at the C-suite level," said Christopher Dauer, director of UBM Connect's Cruise Events Portfolio. "Four executives of the world's largest cruise companies will provide a top-level overview of where the global cruise industry is today and what they foresee going forward."
The State of the Industry panel will convene Arnold Donald, president and CEO of Carnival Corporation & plc; Richard Fain, chairman and CEO of Royal Caribbean Cruises Ltd.; Frank J. Del Rio, president and CEO of Norwegian Cruise Line Holdings Ltd.; and Pierfrancesco Vago, executive chairman of MSC Cruises.
This year's opening plenary session features CNN's Richard Quest as the panel's moderator. Quest is CNN's foremost international business correspondent and presenter of "Quest Means Business" and the monthly "CNN Business Traveller" programs. Based in New York, he is one of the most recognizable members of the CNN team.
Arnold W. Donald has been a director of Carnival Corporation since 2001 and a director of Carnival plc since 2003. He was named president and CEO of Carnival Corporation & plc in June 2013. Carnival Corporation & plc is the world's largest cruise company with more than 100 ships sailing under nine brands including AIDA Cruises, Carnival Cruise Line, Costa Cruises, Cunard Line, Holland America Line, P&O Cruises Australia, P&O Cruises UK, Princess Cruises and Seabourn. Carnival Corporation's 100,000-plus employees worldwide serve about 10 million passengers a year.
Richard Fain has been chairman and CEO of Royal Caribbean Cruises Ltd. since 1988. The global cruise company owns six brands: Celebrity Cruises, Royal Caribbean International, Pullmantur, Azamara Club Cruises, CDF Croisieres de France, and the joint venture TUI Cruises. Together, these brands operate a combined total of 42 ships globally with a selection of itineraries that call on approximately 490 destinations on all seven continents.
Frank J. Del Rio was previously chairman and CEO of Prestige Cruise Holdings Inc., parent company of Oceania Cruises and Regent Seven Seas Cruises. Del Rio founded Oceania Cruises in 2002, creating a new "upper premium" segment of the cruise industry. Prestige Cruise Holdings acquired Regent Seven Seas Cruises in 2008 from the Carlson Company. Norwegian Cruise Line acquired Prestige Cruises International in 2014. The combined brands operate 21 ships with approximately 40,000 lower berths visiting more than 430 destinations worldwide.
Pierfrancesco Vago, in addition to being executive chairman of MSC, serves as chairman of CLIA Europe, which comprises seven national chapters with offices in Belgium, France, Germany, Italy, Netherlands, Spain and the U.K. and Ireland. The national chapters provide platforms to address and solve issues at the local and national levels, and constitute an integral part of CLIA's multilevel approach to representing its members' interests.
Preceding the State of the Industry panel, Cruise Lines International Association Chairman Adam M. Goldstein will provide a statistical overview of the cruise industry. Goldstein is president and COO of Royal Caribbean Cruises Ltd.
Program: http://www.cruiseshippingevents.com/miami/conference/conference-program