France ends HSBC Swiss private bank investigation; trials set to begin
Tuesday, February 17th 2015 - 07:09 UTC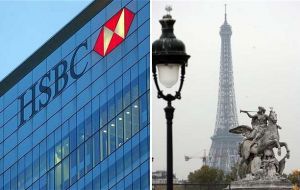 French investigation into HSBC's Swiss private bank over a suspected tax-dodging scheme for wealthy customers has ended, bringing it a step closer to a possible trial, a judicial source said.
HSBC last week admitted failings in compliance and controls in the Swiss unit and faces investigation by US authorities and an inquiry by British lawmakers after reports that it helped customers conceal millions of dollars of assets in a period up to 2007.
French magistrates put HSBC Private Bank under formal investigation in November. They ended their inquiries on Feb. 12, the source said, adding that prosecutors had three months to request that the bank be sent to trial to answer charges.
The alleged fraud involves some 3,000 French taxpayers. Cases against specific clients of the Swiss bank are already in progress with 62 cases in the works, according to the daily Le Monde.
On Monday, the tax fraud trial of the heiress of the Nina Ricci perfume fortune opened in Paris, one of the first people to be tried in France since a list of thousands of clients alleged to have evaded taxes through HSBC's Swiss private bank became public.
Arlette Ricci is suspected of hiding more than $22 million from French tax authorities via a bank account kept by HSBC's Swiss arm. She is on trial for tax fraud, money laundering and the crime of fraudulent bankruptcy to avoid tax.
Ricci, 73, who denies the charges, could face up to five years in prison and a 75,000 euro fine. Also on trial are her daughter and accountant.
A separate French investigation into the bank's parent company is continuing.