Mercosur intra-zone trade continues to slide; represents 14% for the block
Tuesday, February 17th 2015 - 19:24 UTC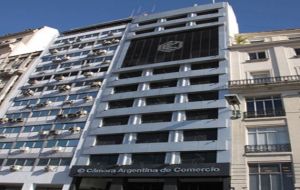 Trade among Mercosur partners contracted 12.3% during the third quarter of last year in annual terms, despite the fact overall trade of its members increased and despite the greater integration commitment of the group's original charter, points out the Argentine Chamber of Commerce
Exports plus imports of the five Mercosur members in the third quarter totaled 26.4bn dollars with a 12.3% drop over a year ago and 10.6% in the consolidated last twelve months, says the CAC Foreign trade observatory.
The intra-Mercosur trade fall was even for four of five members: Argentina -17.7%; Brazil, -13,2%; Uruguay -16.4% and Venezuela, -12.2%, while Paraguay's actually increased 21.7%, mainly because of its growing 'maquila' supply of the Brazilian industry.
According to CAC intra-zone trade has been stalled since 2011, when it expanded 24.4%, well above the historic 8.9% increase.
"Currently intra-zone trade leaving out Venezuela that has not supplied data in the last twelve months, represents 14% of the whole trade exchange of the block, which means a reduction regarding 2014 second quarter and the 2013 third quarter.
Brazil was the Mercosur member that suffered the greatest loss in its intra zone trade participation, falling back 6,7%, meaning they now represent 9.1%.
"The Mercosur block which is about to be 25 and was conceived to strengthen trade and political links, currently faces a situation in which the intra-zone trade is increasingly losing relevance", concludes the CAC report.