Levy tells US investors Brazil is on track to correct the fiscal slippage
Thursday, February 19th 2015 - 05:23 UTC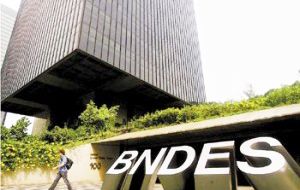 The government of President Dilma Rousseff is working to meet its primary budget surplus goal of 1.2% of GDP in 2015, pledged Finance minister Joaquim Levy on Wednesday to an audience of investors in New York.
"Brazil is removing the last vestiges of tax cuts and government spending aimed at bolstering the economy as we work to correct the fiscal slippage of the last few years", said Levy.
"We are just taking these anti-cyclical measures away, and this will put us on better footing," Levy said in his first public address to investors in the United States.
Levy said he was confident in the Brazilian economy, although he understood investors' fears. "I'm not pretending that you should not be worried about the fiscal situation," Levy said. "I'm confident that we should get the house in order. We will get back to the path of growth."
Levy, a fiscal conservative educated in Chicago and who took office in January, acknowledged a "slippage" in Brazil's fiscal results in recent years, but said the government was going to correct them.
He said that monetary policy "sooner or later will become more restrictive" and that additional loans to the country's development bank BNDES are no longer a policy instrument.
Brazil's fiscal deficit has widened to one of the biggest in the world, raising the risk that the country could lose its investment-grade rating. A series of tax breaks and expenditures during the previous Rousseff administration cost the government 104 billion Reais in revenue, or about 2% of GDP last year, Levy said.
Levy has already raised taxes and limited public expenditures to plug the overall budget deficit that doubled last year to 6.7% of GDP.
Still, Levy will have a hard time shoring up Brazil's finances. In effect one of Levy's first challenges will be to convince lawmakers to pass controversial legislation to cut unemployment and pension benefits.