Argentine Justice confirms prosecution of Vice-president Boudou on bribery charges
Friday, February 20th 2015 - 04:04 UTC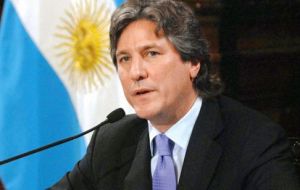 An Argentine Federal Chamber has confirmed the prosecution of Vice President Amado Boudou for "bribery and negotiations incompatible with the public administration" in the case investigating Cristina Fernandez second-in-command for his alleged involvement in the purchase of the ex printing company Ciccone Calcografica.
The investigation centers on whether Boudou helped Ciccone Calcografica get out of bankruptcy in 2010 and later steered a contract to its new owners to print money.
Former owner of the firm Nicolás Ciccone; businessman and friend of Boudou, José María Núñez Carmona; Alejandro Vandenbroele; ex chief of staff of the Ministry of Economy, Guido Forcieri and AFIP tax bureau official Rafael Resnick Brenner have also been also prosecuted in the high-profile case.
The court, however, dismissed charges against ex son in law of Nicolas Ciccone, Guillermo Reinwick.
The chamber thus opened the way for magistrate Lijo to have Boudou stand at an oral and public trial, while a further investigation is looking into a possible illicit enrichment of the vice-president's family.
In the 80 pages conviction, the members of the Chamber explained the mechanism by which Boudou took a personal interest in lifting the bankruptcy condition of the CIccione printing company, which ended with a private company The Old Fund, holding 70% of shares.
Argentina's tax office, AFIP in a first decision rejected Ciccione's plan to pay its way out its situation, but two months later unexpectedly and without much fuss AFIP accepted the payments plan. "This was achieved through the intervention of Vice-president Boudou and instrumented by his close friend Jose Maria Nuñez Carmona".
This concluded with the signing of a contract between The Old Fund and Ciccone, on 16 April 2012 for the printing of 410 million bills of Argentine money.