Negative inflation in France adds to Euro-zone stagnation and deflation fears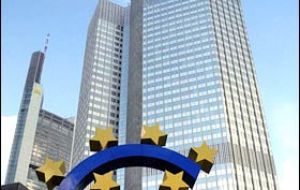 Inflation in France, the Euro zone's second-biggest economy, was negative in January for the first time in more than five years, the national statistics agency said on Thursday.Prices declined by 0.4% in January compared to the same month last year, INSEE said, noting that France has not seen negative inflation since October 2009.
The data in France followed similar figures earlier this month that showed prices in European powerhouse Germany also declining by 0.4%.
The pattern of declining prices in the Euro-zone is creating a headache for the European Central Bank, which aims to keep inflation "close to, but below" two percent.
Last month, the ECB unveiled a massive trillion-euro bond purchase program to ward off deflation and end stagnation in the Euro zone economy.
The fall in inflation in the Euro zone is linked to the dramatic fall in oil prices, resulting in cheaper petrol -- a key component of many households' spending.
But it is also linked to a sluggish economy in the 19-nation zone, with weak demand.
Falling prices sounds like it should be positive for consumers and the economy.
But economists fear deflation almost as much as rampant inflation because shoppers tend to put off purchases in the belief they may be cheaper in the future.
This leads to a spiral of ever weaker demand, slowing the economy and pushing up unemployment.
In related news fellow Euro zone member Finland also announced that its inflation rate had turned negative in January. Prices were down 0.2% from a year earlier, the first negative inflation figure for Finland since January 2010.