Pemex cuts budget and postpones big projects due to sharp drop in oil prices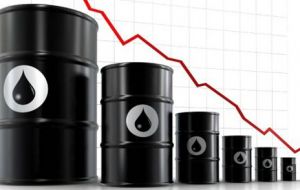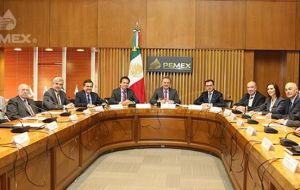 State-owned oil giant Petroleos Mexicanos, or Pemex, said its board approved budget cuts totaling 62 billion pesos (4.15 billion) and the postponement of some big projects in light of the sharp drop in oil prices.
"In the past eight months, the global oil industry has been experiencing large adjustments in the prices of benchmark crude," Pemex said in a statement.
The Mexican export crude-oil blend traded at an average of 86 dollars per barrel in 2014, with its price rising above 100 per barrel during the year, the state-owned oil giant said.
"Currently, it is trading at around 49 per barrel, having hit a low of 37 in January," Pemex said.
The board of directors voted on Feb. 13 to cut the budget approved by Congress in an effort to adjust to the plunge in oil prices and achieve the financial targets set by lawmakers, Pemex said.
"With this, the company will be able to operate with a more balanced financial situation for the remainder of the year and strengthen its financial position to continue with the medium- and long-term growth plans without the need to take on more debt than necessary," Pemex said.
"Even though one of the premises used to craft the spending adjustment plan was to maintain the ability to supply the domestic oil market, the adjustment is of such a magnitude that the execution of the main projects in this area is being deferred," the state-owned oil giant said.
Refining and clean gasoline and diesel projects are affected by the move, Pemex said.
"The board instructed management to contact contractors to renegotiate contracts," a process that will be carried out "with strict adherence to the law," the state-owned oil giant said.
The board asked CEO Emilio Lozoya to "implement an important effort to reduce current spending, including that related to human resources and personal services, looking to reduce the impact on Pemex's productive investment projects," the company said.