Protestors take to the streets in Venezuela on anniversary of opposition leader's year in jail
Friday, February 20th 2015 - 00:30 UTC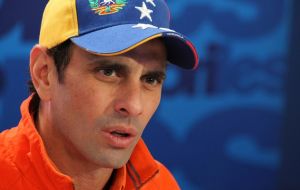 Backers of jailed Venezuelan opposition leader Leopoldo Lopez took to the streets of Caracas on Wednesday on the first anniversary of his arrest and subsequent jailing, but the mood of last year's mass protests against the government of President Nicolas Maduro was markedly different.
One year has passed since Venezuela's streets were rocked by anti-government protests that left 43 people dead and neighborhoods choked by flaming barricades.
The unrest culminated with the arrest of Lopez, a former Caracas-area mayor and opposition leader, who waved goodbye to thousands of supporters before being hauled away for what he and his family expected to be a short time in custody.
On Wednesday supporters marked the anniversary of Lopez's detention by gathering to once again demand his release. But the street-paralyzing marches and raucous protests of last year were nowhere in sight. This time, the mood was one of resignation.
Even though Venezuela's oil-based economy is in tatters and polls show support for Maduro at an all-time low, demonstrations in recent weeks against the government have been small and sporadic.
The opposition's momentum dissipated after last year's demonstrations failed to produce anything concrete, with their ranks split — as they were last year — over whether to push for change through the street protests like those favored by López or by trying to win elections later this year.
Launching the rallies last year, Lopez, along with other opposition leaders, hatched a plan called La Salida ("The Exit") which sought to remove Maduro from power, but Henrique Capriles — who lost the last presidential election — refused to join the movement.
Lopez's wife, Lilian Tintori, gathered with a small group of supporters to mark the date of her husband's arrest, and asked Venezuelans to show their support for him by wearing white. But for most of the day, people in the plaza that was the epicenter of the protests in 2014 went about their daily routines.
Tintori has been clocking up the air-miles in recent weeks as she seeks to increase the pressure on the government. Earlier this month, she met with US Vice-President Joe Biden to ask Washington to apply further pressure. This week, in an interview with O Estado de Sao Paulo, she called on Latin America's leaders to speak up about her husband's detention.
"Any person and especially a Latin American leader, has full rights to speak up and approach the region with an agenda of respect for human rights," Tintori said.
Capriles too called for Lopez's release on Wednesday, saying the opposition leader had been "kidnapped" by the government. He called on Venezuela's fractured opposition to unite.
"By means of the National Assembly (AN), we can achieve the release of political prisoners," he said. "Putting an end to political imprisonment depends on the AN."