Gibraltar's vital role for the US Navy's operations is underlined
Thursday, February 26th 2015 - 23:21 UTC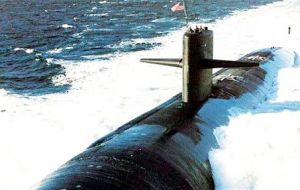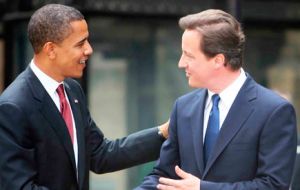 Gibraltar plays a 'vital' role for the US Navy's submarine operations at a time of increased Russian naval activity, a US think tank said. The Heritage Foundation made the statement in its Index of US Military Strength 2015, a wide-ranging annual research project that assesses the ability of the United States Armed Forces.
The document notes that the US Navy keeps a number of submarines in the European region and that these contribute to the intelligence, surveillance and reconnaissance capacities of EURCOM, the US military's Germany-based European Command.
Some of these submarines 'frequently' dock at the Z Berth in the naval base at Gibraltar, the Heritage Foundation said. "The US cannot dock nuclear powered submarines in Spain making access to Gibraltar's Z berths vital," the report added.
"Gibraltar is the best place in the Mediterranean to carry out repair work." "Strong US–UK military cooperation assists the US in keeping submarine assets integrated into the European theatre."
The Heritage Foundation cites retired US Navy Admiral James Stavridis, who in 2012 highlighted the importance of the US Navy's European submarine operations against the backdrop of increased Russian naval activity. Since then, Russian ships have remained active in the Mediterranean and regularly sail through the Strait of Gibraltar, including calls at Ceuta for fuel.
"These [US submarine] capabilities are increasingly important as the Russian Federation Navy increases the pace, scope and sophistication of its submarine fleet," Admiral Stavridis said.
The US Navy also has a fleet of P-3 Maritime Patrol Aircraft and EP-3 Reconnaissance Aircraft operating from US bases in Italy, Greece, Spain and Turkey. These aircraft complement the intelligence-gathering capabilities of US submarines.
In its regional assessment of the European operating environment, the Heritage Foundation also notes the strategic importance of the Strait of Gibraltar. At 40 miles long and 8 miles wide at its narrowest point, the strait is one of the world's most important maritime choke points.
"More than 200 cargo vessels pass through the Strait of Gibraltar every day carrying cargoes between Asia, Europe, Africa, and the Americas," the report notes.
"Its proximity to North Africa, combined with the narrowness of the strait, has presented security challenges for US and allied warships."
The report notes the importance of the US military's presence in southern Europe, particularly at a time of mounting instability across much of North Africa.
It highlights the role of US naval bases in Europe including the Naval Air Station in Sigonella, Italy; the Naval Support Activity Base in Souda Bay, Greece; and the Naval Station at Rota, Spain.
Naval Station Rota will be home to four destroyers equipped with the Aegis ballistic missile air defense system. In addition, the USS Mount Whitney, a Blue Ridge-class command ship, is permanently based in the region. This ship provides a key command-and-control platform, which was successfully employed during the early days of the recent Libyan operation.