HMS Protector in cleanup and surveying tasks in South Georgia
Saturday, February 28th 2015 - 07:03 UTC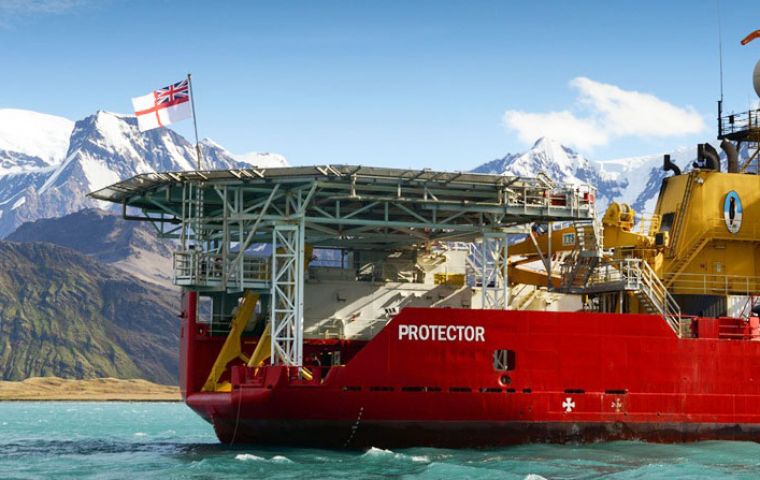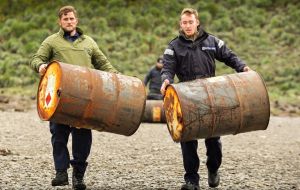 The men and women of HMS Protector have helped the South Georgia Government by carrying out a beach cleanup and glacier survey. 700 miles east of the Falklands, South Georgia is a crescent shaped island with magnificent scenery and wildlife. But over the years debris from several shipwrecks has been washed up on the island's beaches.
As a result a group from the Ice Patrol Vessel went ashore and began a clean-up removing more than a ton of wreckage with the help of members of the British Antarctic Survey. The teams were able to remove the barrels causing the minimum amount of disruption to the hundreds of seals and penguins on the beach.
During the South Georgia visit HMS Protector also produced a radar survey of the Drygalski Glacier to determine how it has changed over the years.
The resulting image demonstrated that it has shrunk and has contributed valuable information about the effects that climate change is having in the island's environment.
Protector's Diving team had an important role to play in finding five historic whaling vessels that sank during a snow storm in the 1960s.
Since they sank it is believed that they have been leaking fuel into the pristine waters and the divers were able to report on the status of the vessels to the South Georgia Government.
The South Georgia Government also asked the Ice Patrol to help remove empty fuel drums that, when full, had been distributed around the island by the South Georgia Heritage Trust, who are undertaking a highly ambitious island-wide rodent eradication program.
Commander Richard Bird, the ship's Executive Officer, lead the team assigned to this task, and in worsening weather managed to recover 22 used barrels.
Commander Bird said: "The ship's company were extremely pleased that HMS Protector could play a significant part in this important and world leading operation and, despite worsening conditions, the team were able to remove the barrels causing the minimum amount of disruption to the hundreds of seals and penguins on the beach." (RN)