Argentine farmers and government clash over next week's three day walkout
Friday, March 6th 2015 - 08:48 UTC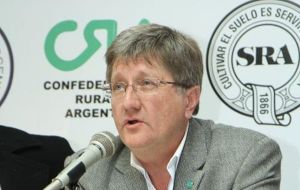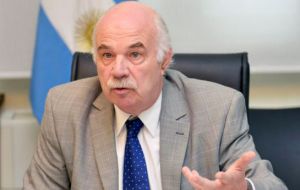 Argentine farmer organizations lashed back at Agriculture minister Carlos Casaquimela who questioned a three-day strike announced for next week to protest government policies, and which he described as 'unjustifiable'.
A group member of the Liaison Board that brings together Argentina's top farming lobbies, the CRA released a statement accusing Casamiquela of "observing the reality of the (Kirchnerite) tale," a line that opposition sectors have been using to criticize the government's description of Argentina's affairs as fake.
"Facing the statements that all the farming sector's numbers are positive, the minister again chooses to continue observing the reality of the tale, leaving aside, for instance, the stalemate in milk production and the negative record in one of the worst wheat sowings of the past 110 years," the CRA said.
With minister Casamiquela considering the March 11-13 walkout "contradictory," the entity commanded by Ruben Ferrero argued that what "actually" represents a contradiction is that "wheat producers cannot trade their production because they have no one to sale it to," adding that regional economies "cannot harvest because they don't even cover the costs" of reaping their production.
On Wednesday, Carlos Casamiquela told media the strike "will not affect much" the Argentine economy, pointing out the sector was already keeping products outside the market.
"Announcing a trade walkout is contradictory if they are not trading already. They have 10 million tons of soy kept in silo sacks. So, whether they strike or not, it will not change that much the economic situation," Casamiquela said, who added that if things are so bad, "how come we are facing another record harvest in Argentina".
"The three-day action is taken to mark our rejection of the government's agriculture policies, which have caused a critical situation for the country's farmers," said Luis Etchevehere, head of the Argentine Rural Society, which represents some of the country's main agricultural producers.
The government of President Cristina Fernandez was shaken by a widespread farm rebellion in 2008 that reduced exports for months and cut into government revenue. Relations between her and the grains sector have been strained ever since.
Argentina is the world's No. 3 soybean exporter and top supplier of soy-meal livestock feed and soy-oil.
The Fernandez government levies a 35% tax on soybean exports and restricts corn and wheat shipments under a system meant to ensure ample domestic food supplies, but farmers say that restricts their markets and makes crop planning difficult.
High inflation and a wobbly local peso currency have prompted an increase in soy hoarding in recent years, as farmers pile their beans into the white, oblong silo-bags that have come to dot the Pampas grains belt.