Mercosur has failed, Argentina needs new partners: the Pacific Alliance?
Friday, March 6th 2015 - 09:06 UTC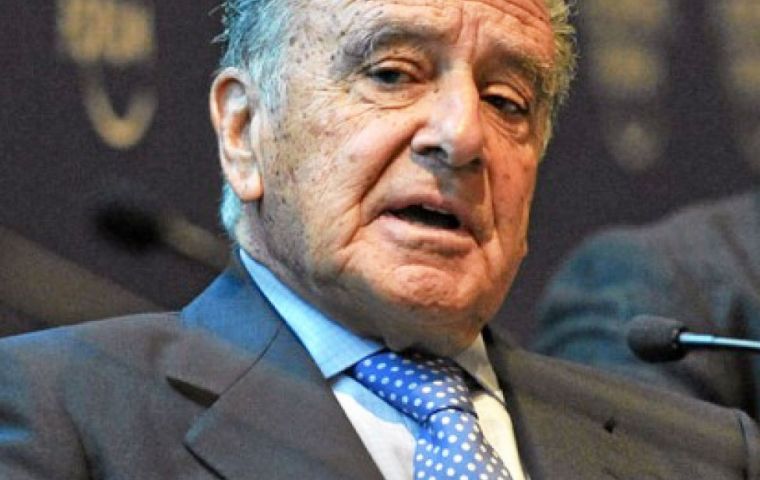 "Mercosur as a unified space has failed and Argentina must start thinking in a new partner, which could be the Pacific Alliance" said one of Argentina's main businessmen with interests in a diversified portfolio, Eduardo Eurnekian. He made the statement on the sidelines of the World's Chambers Federation executive board meeting in Buenos Aires.
"We (Argentina) will have to find some other group, which could be the Pacific Alliance" said Eurnekian underlining that regional integration is vital so that Argentina can address the challenges of the global economy.
"Mercosur needs to integrate with a greater number of countries and with greater global presence to face other economic blocks; the Mercosur union space failed because it has no critical mass: we compete in autos, but then out comes Mexico, India, China, and they make them cheaper, so what do we do?, that is the great challenge ahead", said Eurnekian head of Corporación America and ranked 1.006 in the Forbes billionaires' list.
Asked about Argentina's recent raft of agreements with China Eurnekian described it as positive. "In certain aspects I see it fine. On the one side China has an enormous potential to invest, which is positive but at the same time it is a huge producer of the same things Argentina manufactures. So it is understandable that the business chambers have protested".
Regarding the devaluation of the Brazilian currency, Real, Eurnekian said he believes it will continue to slide against the US dollar but also pointed out that "Argentina has comparative advantages, we must ensure sustained development to ensure we keep those advantages" ahead of Argentina's main trade partner, together with China.
Eurnekian also pointed out that the world loves protectionism, but the windows for that resource are increasingly short. "In the fifties you could get away protecting a specific good, maybe 20/30 years. No longer, how many times do phone models change? there's no way you can do protectionism, in a few months you are out of the market. What is needed is creativity, try and show that we can come up with things that can have an overseas demand. It's not easy"
Besides said the Argentine tycoon, "you have the critical mass problem. It's impossible to compete with reasonable prices when you have competitors such as China, US, EU or Japan that can make not millions but billions of whatever. Cost becomes insignificant. It's easy to say 'I'm going to manufacture it', but what about competing?, banning imports is no solution".
Finally on Argentina which is holding presidential elections next October, Eurnekian said that he hasn't heard any concrete proposals: "the diagnosis is easy, but I have not seen concrete initiatives from candidates, so far".
"I believe given the current scenario with no clear cohesive candidate and a clear majority that the next government will have to expand its support base and reach some kind of agreement or understanding, not of governance, that is ensured by democracy, but to get us back on to the global economy wagon", concluded the businessman who among other things financed the Argentine cemetery at Darwin in the Falklands.