February inflation in Brazil at 7.7% is at its highest level since May 2005
Saturday, March 7th 2015 - 07:37 UTC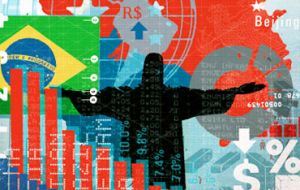 Inflation jumped in Brazil on February with price increases hitting an annual rate of 7.7%, the highest in nearly nine years, officials said on Friday. The national statistics institute IBGE said prices rose 1.22% in February, pushing inflation well above the government's target ceiling of 6.5%.
"Over the past 12 months the figure is 7.7%, the highest since May 2005, which reached 8.05%," said IBGE.
The figures highlighted the spiraling cost of education, transport and housing.
Prices rose 6.41% across 2014, the highest annual figure since 2011, and the latest data show the trend continuing apace. Already for January and February the cumulative rise is 2.48%, double last year's figure for the first two months.
Brazil's central bank Wednesday again raised its key interest rate, by 0.5 points to 12.75% amid forecasts for feeble growth through this year.
Finance Minister Joaquim Levy expects official figures due later this month to show GDP was in negative territory last year. Analysts predict a 0.58% contraction.
Brazil's populist president Dilma Rousseff, saddled with a burgeoning corruption scandal at Petrobras since her re-election in October, has responded to the downturn with budget cuts while promising to protect social programs for the working class, bedrock of support for her Workers Party.