Major financial scandal in Chile has several political figures in the dock
Monday, March 9th 2015 - 07:24 UTC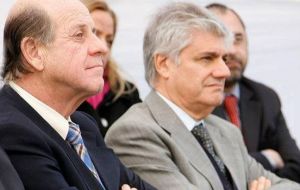 A Chilean judge ordered the arrest of Carlos Alberto Delano and Carlos Eugenio Lavin, owners of the financial holding company Penta Group, and four associates who face tax fraud and bribery charges.
Délano and Lavín, the key defendants who were detained are the founders of the Penta financial company with interests in insurance, health, education and real estate. Both deny wrongdoing. If found guilty, they could face up to 15 years in jail.
Also detained were are former under-secretary of mining Pablo Wagner (under Sebastián Piñera's presidency 2010-2014), a former tax official and two Penta executives. One of the executives who was imprisoned is former holding director Hugo Bravo. Two other Chilean citizens have been charged but not jailed.
The ruling by Judge Juan Manuel Escobar comes in one of Chile's biggest scandals over alleged corruption. They have been financial backers of the right-wing Democratic Union and National Renovation parties. The judge gave investigators four months to assemble a case against them.
The Penta holding company, which has often come into question, is one of Chile's largest economic groups, with multimillion investments in the banking sector, insurance, pension funds, health care institutes and real estate agencies.
Carlos Bombal, former senator and Penta adviser from the UDI, is one of the people accused by the prosecutor, and has been banned from leaving the country. In addition, he must attend a courthouse meeting on a weekly basis.
The case burst out halfway through the year in 2014, after then-general manager Hugo Bravo was fired from his post in the company for which he had worked for more than 30 years. Bravo was brought to trial by the Internal Revenue Service, under charges of tax fraud involving his own companies.
The former company exec, now 69, took the Penta owners to court for unjustified dismissal and moral damage, demanding a multimillion severance payment, which his former employers rejected.
After taking Penta to court for his dismissal, Bravo, who had insider knowledge and participated in the company's shady dealings, denounced the multimillion illegal contributions made by Penta, mostly to the political campaigns of the UDI, founded in 1983 as the political arm of former dictator Augusto Pinochet, and part of the Chilean opposition alliance along with Renovación Nacional (RN).
Both Délano and Lavín had a history of political affinity with the UDI. Bombal was Santiago de Chile mayor during the military dictatorship (1973-1990), and then went on to become senator and to serve as party vice-president. Wagner last November resigned from his party activism after his name came up in the case.