Falklands' 4.000 ewes to be AI with Australian Poll Merino
Wednesday, March 11th 2015 - 05:27 UTC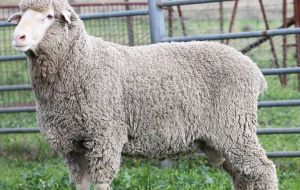 Australian Poll Merino genetics are being used to drive lamb survival in one of the world's harshest wool producing environments of the Falkland Islands, reports The Rural, from Australia.
Semen from Australian rams with positive Australian Sheep Breeding Values for fat and muscle, and superior wool traits, will be used over 4.000 ewes making up Falklands Landholdings Corporation ram breeding nucleus later this year.
Superior rams from the program will eventually be used across the organization's ewe flock of 70,000 sheep on the Falklands to the existing lamb survival average of 60%.
Falklands Landholding Corporation general manager Neil Judd scoured Australian studs, unearthing a poll sire with high fat and muscle at Mumblebone Merinos, Wellington.
Mr Judd said the Corporation had used sires over the last decade with high fleece weights and growth rates but little attention had been paid to hardiness and fertility.
"Lambing percentages of 60% are normal with young ewes generally not being mated until they are two and a half years of age. Lambs born struggle to gain the necessary body condition and live weights to satisfy tight meat industry specifications.''
Falklands Landholding Corporation manages around 300,000 hectares, typically shearing 150,000 sheep and supplying 25,000 prime lambs and mutton to the local European Union approved meat works.
Mr Judd said sheep struggled to maintain live-weight and body condition during the Falklands' short summer growing season, and extended cold period from late mid-autumn to late spring.
"The impact of the harsh winter is most pressing on breeding ewes and young growing stock with animals typically losing 10 to 20% of their bodyweight during this period,'' Mr Judd said.
"We are introducing genetics from a number of Australian Poll Merino studs specifically to improve hardiness and robustness through positive genetic fat and eye muscle on a plain bodied, mid micron polled Merino sheep,'' Mr Judd said.
He said Mumblebone Merinos had been identified as one a small number of progressive Australian studs working on these traits.
About 4.000 ewes have been selected for an AI program due to be completed in May and conducted by Chile veterinary specialist Jose Nogueira. Mumblebone has supplied 1.500 doses of semen from stud sire 120048, a double poll sire with ASBV figures of +1.2mm for yearling fat and +2.2mm for yearling eye muscle depth.
Mumblebone principal Chad Taylor said the ram's staple length and worm resistance, growth, clean fleece weight and overall conformation made him a stand out. "We have selected heavily for fat and muscle in the last eight years to improve the balance of traits offered in our Merino rams''.
"As a result, in the last two years, there's been new interest from around Australia … with the common focus being on selecting rams and semen which have high levels of fat and muscle in the mix of traits," he said.