Argentina blasts Judge Griesa ruling blocking Citigroup from paying bonds issued under local law
Sunday, March 15th 2015 - 00:54 UTC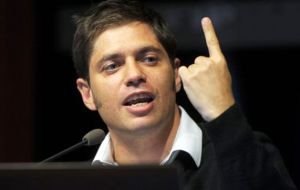 A release from the Argentine Economy Ministry considered US Judge Thomas Griesa's ruling issued on Thursday "a shameful excess of jurisdiction". Judge Griesa blocked Citigroup Inc from processing interest payments by Argentina on some bonds issued under the country's law.
The judge said letting Citigroup process the payments on so-called dollar-denominated exchange bonds would violate a requirement that Argentina treat bondholders equally.
"Judge Griesa's order violates again basic legal principles, making clear his decisions are not based on the law but on his evident partiality against Argentina," the ministry said in a statement released Friday afternoon.
"Griesa has become once again an accomplice of vulture funds' extortion intents. Moreover, in this occasion, he pretends that Citibank Argentina and its Argentine directors act against Argentine law," the statement reads.
The Argentine Economy Ministry stressed the bonds at issue are "domestic debt" and said Griesa's decision stems from the original "confusion" of his interpretation of the pari passu clause, which "does not respond to economic logic, but to vulture funds' interests."
The Ministry also remembered Citibank headquarters had pointed out to Griesa the dangers of blocking the payment for Argentina's Citibank subsidiary.
"If the bank does not transfer the funds it will be breaking Argentine banking law. The Republic could revoke Citibank Argentina's license to operate and even impose criminal responsibility upon its employees," it argued.
The Economy Ministry assured "the Republic will continue paying its debt as usual," and remembered that entities inscribed in Argentina are subject to Argentine regulations: "Local authorities will be inflexible in applying the law."
The Argentine government already sanctioned Bank of New York Mellon (BoNY) when it refused to process payment for 539 million dollars. BoNY was forced to close its only Buenos Aires subsidiary. The Citibank case is quite different, as it has over 2800 employees, 136 thousands current accounts and loans for 18 billion pesos.