Argentina will keep to its monetary policy despite a 20% devaluation of the Brazilian Real
Sunday, March 15th 2015 - 02:33 UTC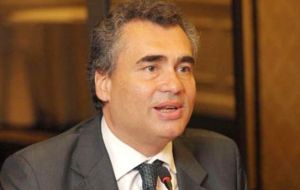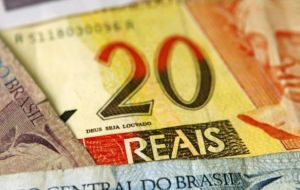 Argentina's central bank governor Alejandro Vanoli said that despite the continued erosion of the Brazilian currency against the US dollar, which ended the week trading at 3.28 Real to the greenback, monetary policy will continue to manage the foreign exchange to avoid volatility and ensure economic growth.
"The dollar, in Argentina, is at the adequate level against the US dollar and we will continue with the administered floating forex policy to contain financial volatility, lower inflation and promote development" said Vanoli during a conference organized at the Torcuato Di Tella University in Buenos Aires.
In Brazil the Real on Friday again continued to slide against the US dollar, while investors are in the lookout for alternatives to avoid the consequences of the strong devaluation of the Brazilian currency, which has lost 10% of its value during March.
At the end of trading on Friday the US dollar reached 3.28 Reales which means the Brazilian currency depreciated 3.1% in one day, and stabilized at 3.25, the lowest since 2003. In international markets the US dollar also appreciated strongly because of expectations that next week the Federal Reserve will give clearer hints as to when it will begin rising interest rates.
Political uncertainty, more than economic fundamentals are having an impact on the Brazilian currency since the administration of President Dilma Rousseff seems too weak or not sufficiently convincing to have Congress pass a raft of bills to help balance the budget. To this must be added the ongoing investigation into the Petrobras corruption scandal that is hitting hard the credibility of the political establishment.
Since the beginning of 2015, the Real has devalued 20% against the US dollar, which theoretically could help the country's exports, but at the same time becomes a strong challenge for countries such as Argentina and Uruguay. Brazil is Argentina's main market for manufactured goods, and its main trading partner together with China. Likewise for Uruguay Brazil is its leading trading partner, and a weak Brazilian currency will seriously limit its capacity to purchase overseas even in the framework of Mercosur.