Brazil readies for Sunday's mass protests; tepid marches in support of Dilma on Friday
Sunday, March 15th 2015 - 02:25 UTC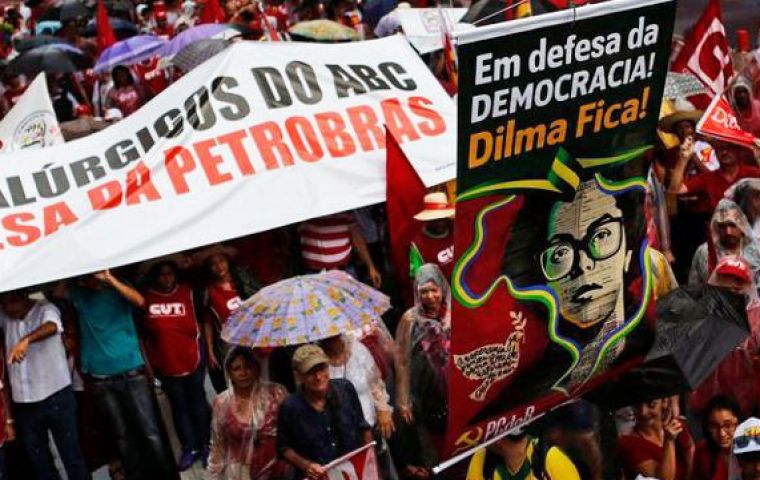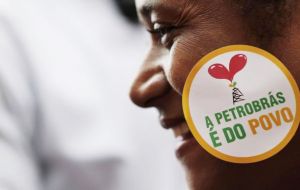 Pro-government labor unions, student organizations and social activists staged demonstrations across Brazil on Friday in support of President Dilma Rousseff, two days before mass protests planned against her administration.
The populist leader is facing a wave of discontent over a stalling economy, unpopular budget cuts and a corruption scandal over kickbacks at Petrobras that has implicated tens of politicians from her governing coalition, and numbers keep increasing.
The protests on Sunday could deepen a political crisis that has given rise to calls for Rousseff's impeachment for not stopping a multibillion-dollar graft racket at Petrobras, the country's largest company and once the pride of Latin America's number one economy.
Sunday's protest marches which are scheduled to take place in at least fifty cities have been organized through the social networks with apparently no political parties' influence, similar to what happened during the Confederation Cup in 2013. Friday's marches on the other hand were clearly organized by political groups and associations closely aligned and supportive of the Workers Party and the administration of Dilma Rousseff.
Police said 12,000 people blocked one of the main avenues of Sao Paulo, Brazil's largest city, marching in the rain to defend the state-run oil company and worker rights threatened by belt-tightening economic policies. Organizers put the figure in 40.000.
"Dilma stays" said banners held by followers of the Communist Party of Brazil, a Rousseff coalition member. Turnout in other Brazilian cities was smaller. There were no reports of violence.
The demonstrators had contradictory slogans. While backing Rousseff, the unions called for the withdrawal of her measures to reduce unemployment and pension benefits, part of an austerity plan she has to enforce to bridge a huge fiscal deficit and save Brazil from a credit rating downgrade.
The graft investigation has led to 40 indictments on racketeering, bribery and money-laundering charges, including two former Petrobras senior managers and 23 executives from six of Brazil's leading construction and engineering firms.
Prosecutors say the companies paid huge kickbacks on overpriced contracts with Petrobras and the funds were divided between corrupt managers and politicians. Most of the alleged corruption occurred when Rousseff was chairwoman of the Petrobras board. She has denied knowing about the graft scheme.
Brazil's main opposition party, the centrist PSDB, has endorsed the protests against Rousseff called for Sunday afternoon. But the party says it does not back her impeachment.