Peaceful massive protests against Rousseff on Sunday throughout Brazil
Monday, March 16th 2015 - 11:00 UTC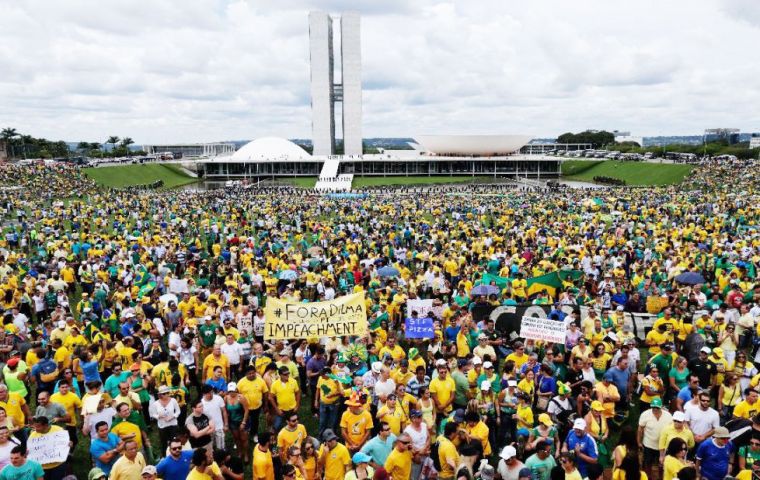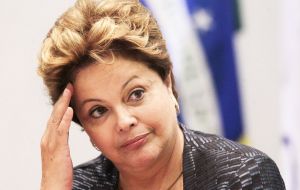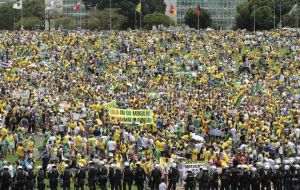 Over one million demonstrators marched in cities and towns across Brazil to protest a sluggish economy, rising prices and corruption, and some even calling for the impeachment of populist President Dilma Rousseff. The marches on Sunday come as Brazil struggles to overcome economic and political malaise and pick up the pieces of a boom that crumbled once Rousseff took office in 2011.
Rousseff, now early into her second four-year term, is unlikely to resign or face the impeachment proceedings called for by many opponents. A fifth year of economic stagnation and a multibillion dollar corruption scandal at state-run energy company Petrobras has fueled their anger.
But for a president narrowly re-elected just five months ago, the protests are a sign of a polarized country increasingly unhappy with its leadership. Rousseff has recently been jeered at public appearances and Brazilians in some cities banged pots during a televised speech she made earlier this month.
Sunday-s larger than expected demonstrations also promise to embolden opposition parties and restive allies who are nominally part of Rousseff's ruling coalition, but nonetheless hindering efforts, along with staunch leftists in her own party, to pass reforms intended to help the economy get started again.
In a statement posted online Sunday, Aecio Neves, a centrist who was defeated by Rousseff in October and is the leader of Brazil's main opposition party, said the demonstrations marked a day when Brazilians "went to the streets to reunite with their virtues, their values and also with their dreams."
Rousseff in a statement Saturday said that she supported the rights of the marchers. She said she hoped the demonstrations, timed to coincide with the thirty year anniversary of the end of a two-decade military dictatorship, would illustrate Brazil's "democratic maturity."
Indeed, Sunday's gatherings were mostly calm and festive, with little of the violence that tarnished a wave of massive demonstrations in 2013, when Brazilians protested billions of dollars of spending, even as the economy stumbled, to host the 2014 World Cup of soccer.
But if less vehement, the rallies surprisingly matched those of two years ago in scale. In Sao Paulo alone, more than a million people, according to state police, weathered a drizzle to march along the heart of Brazil's financial capital and biggest city by late afternoon Sunday.
Earlier, thousands of residents of Rio de Janeiro poured onto the Copacabana waterfront of Brazil's second-largest city. Most dressed in the blue, green and yellow of Brazil's flag. Crowds sang the national anthem and shouted "Dilma, Out!"