Griesa rejects Citigroup petition to allow payment of bonds issued under Argentine law
Tuesday, March 17th 2015 - 07:23 UTC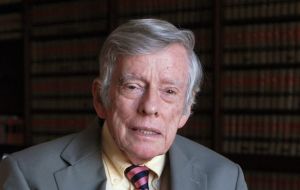 New York district judge Thomas Griesa has declined a request from the Citigroup bank to allow the entity to process the payment of Argentine bonds under local law while an appeal against the magistrate's negative ruling is being prepared.
Last Thursday Griesa turned down the bank's petition to handle the country's debt services, in line with a previous ruling imposed on July 28 that will be appealed as another facet of the fierce judicial conflict Argentina disputes with holdout investors.
The judge insists that Argentina cannot pay restructured bondholders if creditors who did not participate in the bond swaps, such as hedge fund owner Paul Singer's NML Capital, do not also settle their claims against the nation.
Griesa had previously allowed Citigroup to process operations on three separate occasions before making a final decision on the issue. The next set of payments must be made by March 31.
Citigroup, meanwhile, warned Griesa that if the US courts block processing of the payment, Argentina could remove its license to operate in the country.
In effect in a release the Argentine Economy ministry warned Citibank could lose its license in Argentina if it follows the order of US Judge Griesa.
The Argentine government insisted that Citibank has to process payments to bondholders or lose its license. Likewise it demanded all other banks operating in Argentina to carry out payments despite Griesa's ruling.
"Griesa has become, once again, an accomplice in the extortion efforts of the 'vulture' funds. This time, with his unusual ruling, he wants Citibank Argentina and its directors to go against Argentine laws," the Economy ministry said.
The Argentine ministry described Griesa's ruling as a "shameful abuse of jurisdiction" and said it's impossible to fulfill for Citigroup, which could "lose its license in Argentina by breaking Argentine laws." This type of argument has been used by Citibank itself in many hearings and letters sent to Griesa over the past few months, also warning over the legal risk its employees could face by not processing the payments.
"Argentina will continue carrying out its debt payments normally and fulfill all its legal obligations. At the same time, the country reminds entities working in Argentina that they are forced to obey national legislation and that local authorities will be inflexible to assure its fulfillment," the ministry said.
Argentina tried in February to sell US$2 billion of dollar-denominated bonds through Deutsche Bank and JPMorgan Chase. The issuance was scrapped after Griesa ordered the banks hand over relevant documents.
Griesa's latest ruling makes a new bond offering even less likely, determining that local law bonds offered abroad amounted to foreign debt and were therefore subject to his ruling, finance experts said.