Treasurer of Brazil's ruling party formally charged in the Petrobras corruption scandal
Tuesday, March 17th 2015 - 07:59 UTC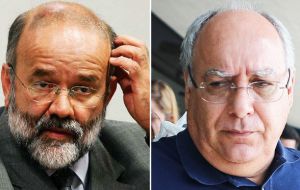 Brazilian prosecutors have formally charged the treasurer of the ruling Workers' Party and 26 others with corruption linked to state-run Petrobras, in the latest blow to President Dilma Rousseff from the widening scandal.
Prosecutors have "ample proof" that Workers' Party Treasurer Joao Vaccari solicited donations from former Petrobras services chief Renato Duque and executives at engineering firms accused of funneling money from the oil company, prosecutor Deltan Dallagnol said.
Vaccari was well aware the donations he was seeking comprised funds stemming from bribes, Dallagnol said, adding that much of the evidence was gleaned from plea bargain deals with executives who were indicted and jailed late last year.
The Workers' Party says all the donations it received were legal.
Rousseff said the charges against Vaccari showed her government had not interfered with the investigation to get the party off the hook. She has denied knowing about corruption at Petrobras though she was chairwoman of its board from 2003 to 2010 when much of the alleged graft occurred.
"If they want to investigate, they will investigate. Whoever is found responsible will have to pay for what they did," she told reporters after announcing plans to unveil new measures to fight corruption by the end of the week.
Still, the scandal has heaped political pressure on Rousseff months after she was narrowly re-elected. Outrage among Brazilians helped fuel huge street protests across the country, pressuring her administration and in several cases calling for her impeachment.
Prosecutors also pressed additional charges against 15 executives linked to construction firms OAS, Mendes Junior and Toyo Setal. Many of the executives had already been indicted in December. An OAS spokeswoman said the firm "vehemently" denies the allegations. Mendes Junior does not comment on ongoing judicial processes, a spokesman said.