Brazil coordinates efforts to guarantee supply of basic products to Venezuela
Wednesday, March 18th 2015 - 08:37 UTC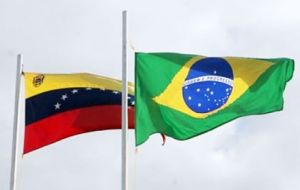 Following a request from Venezuela, the Brazilian government has acted alongside Brazilian companies to guarantee supply of basic products during Venezuela's economic crisis, according to diplomatic sources. The request was made by President Nicolas Maduro in at least two meetings with President Dilma Rousseff, in December 2014 and the day after Rousseff began her second term, on January 2.
The Brazilian intervention prefigures a similar program to be implemented by the Union of South American Nations (UNASUR) in the coming months. At the beginning of March, the bloc announced the creation of "regional support networks" to help distribute basic products in Venezuela.
One of the aims is to increase exports to Venezuela, which as well as suffering from severe shortages, is also feeling the effects of a fall in the price of oil, its principal source of income.
The Ministry of Health confirmed that it had "scheduled a meeting" between a technical team from Venezuela and Brazilian pharmaceutical companies, following the request from the Venezuelan government.
The group Eurofarma, which sees its entry into Venezuela as part of a wider Latin American expansion, had a meeting with the Venezuelan health minister, Nancy Sierra, in December.
"Venezuela accounts for 12% of pharmaceutical retail in the region," said a Eurofarma statement. The company is still considering the best way of establishing a presence in the country, whether through partnerships with local companies or through acquisitions of companies or product lines.
"The assessment includes socioeconomic analysis, as well as analyses of trade practices and the political and regulatory environment," the statement read.
In the first two months of this year, Brazilian exports registered their worst result since 2005, which led February's surplus with Venezuela to the worst result in 11 years.