Citigroup to exit custodial business in Argentina following ruling from Judge Griesa
Wednesday, March 18th 2015 - 08:07 UTC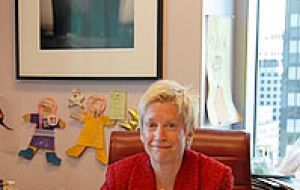 Citigroup Inc announced on Tuesday it plans to exit its custodial business in Argentina as soon as possible, after a US judge refused to lift an injunction that blocked the bank from processing interest payments on 2.3 billion of Argentina bonds, issued under Argentine law.
In a letter to US District Judge Thomas Griesa in Manhattan, Citigroup said it made its decision in light of his March 12 order letting the injunction stand, and Argentina's renewed threats to strip Citibank Argentina of its banking license and to impose criminal, civil and administrative sanctions.
Citigroup has not decided how to exit the custody business, but may sell portions or end some customer relationships, according to the letter from its lawyer, Karen Wagner.
"Consistent with our commitment to be fully transparent with the Court, we wanted to advise Your Honor immediately of Citibank's intention to have Citibank Argentina exit the custody business—and, on that basis, to renew Citibank's application for a limited stay and to request a conference at the Court's earliest convenience to discuss the issues that have arisen in the wake of the Court's March 12, 2015 Order," the letter added.
And it concluded: "The precise manner by which Citibank Argentina will exit the custody business has yet to be finally determined, but it may include the sale of certain portions of the custody business or termination of account relationships with notice to its customers. Upon exiting the custody business, Citibank Argentina will no longer have any role in custodying any securities, including the Argentine Law Bonds, in Argentina for any client."