Argentina asks Citigroup how it will react to Judge Griesa' decision
Thursday, March 19th 2015 - 08:01 UTC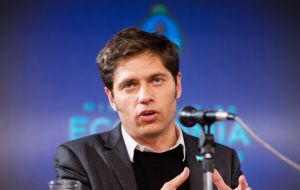 Argentine Economy Minister Axel Kicillof has revealed the government sent a letter to Citigroup asking how the bank will react, after New York district judge Thomas Griesa decided not to kill an injunction that blocked Citi from processing interest payments on 2.3 billion dollars of Argentina bonds, under Argentine law.
Kicillof said the letter was sent to avoid uncertainty about Citibank's actions.
"We don't know what they want to do and what they will do, so the Economy Ministry asked them, in order to avoid uncertainty," he told reporters today during the launch a consumers' promotion program.
The bank has portrayed itself as an innocent third party stuck with an untenable choice between ignoring Griesa, and putting its Argentina banking license in jeopardy.
"There were comments about removing their license to operate in Argentina, because that's what Citibank told Griesa," the Minister stated.
"I would say they have already incriminated themselves in a crime that they did not yet commit," he added.
"You [Citibank] are an Argentine business, subject to Argentine banking law," concluded Kicillof, echoing Tuesday's statements, when he warned the bank that breaking Argentine law would have its consequences.
Economy Minister Axel Kicillof has reminded Citibank that breaking Argentine law "has consequences", while accusing New York district judge Thomas Griesa of "looking after vulture funds' interests."
On Tuesday Citigroup said it plans to exit its custodial business in Argentina as soon as possible, after Griesa refused to lift an injunction that blocked the bank from processing interest payments on Argentina bonds.
Argentina had previously threatened Citibank with severe sanctions, including suspending the bank's licence to operate in Argentina, as it did with the Bank of New York (BONY) when it decided to obey Griesa's ruling above Argentine laws.