Uruguay's Economy minister warns about Mercosur and Brazilian situation
Thursday, March 19th 2015 - 07:26 UTC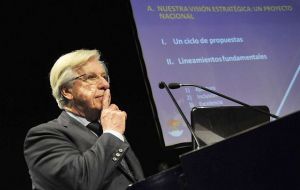 Uruguay's Economy minister Danilo Astori warned about the new regional and international context, not so favorable to his country's interests as in recent years, and underlined that Mercosur is going through one of its worst moments since foundation in 1991.
"There are complications at global level and very significant at regional level, not only relative to economic affairs but also in the political scenario. In this framework Uruguay must face great challenges that mean continue working with active policies in the productive structure of the country", said Astori during a conference sponsored by the Uruguay-Germany Commerce and Industry Chamber.
Astori added that Uruguay must follow very closely the situation of the Brazilian economy, "currently stalled and with its currency eroding against the US dollar". Brazil and China and Uruguay's main trade partners.
"Uruguay has been implementing macroeconomic policies that despite regional and global difficulties have positioned the country in a reasonably good position, But obviously we have not escaped the slowdown in production and export levels, but Uruguay will continue along the path of the policies it has been applying so far. We strongly wish that Brazil can overcome its difficulties and imbalances", pointed out the former Vice-president who nevertheless added a spice of optimism arguing Uruguay can feel safe because of the markets diversification it has been practicing in the last decade.
However the Economy minister emphasized the importance of consolidating international insertion, for which "the region is essential to achieve that goal". But Astori was most critical of Mercosur, its functioning and what is has meant for the region since it was created in 1991.
"Mercosur is going through a very bad moment, the worst since it was created, and it is essential to find the necessary negotiations framework to transcend the project, keeping in mind it will never be the end station but rather the launching pad for further agreements such as the one we are working for with the European Union", concluded the Economy minister.