US website to honor Nisman has among its sponsors the head of a hedge fund in litigation with Argentina
Friday, March 20th 2015 - 08:03 UTC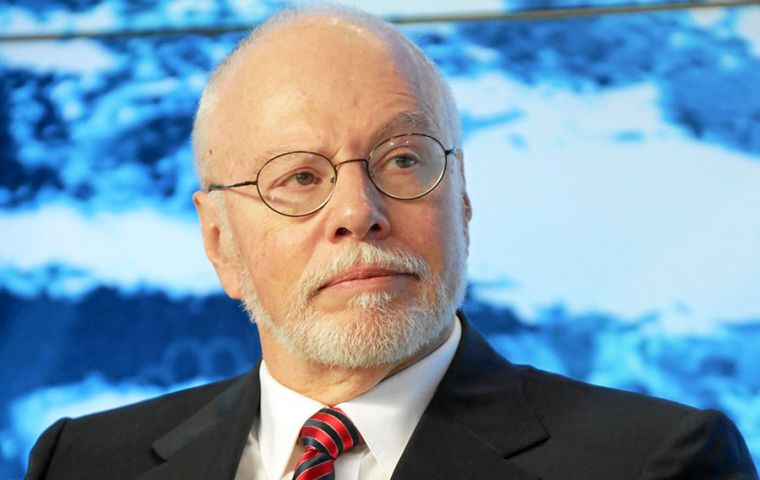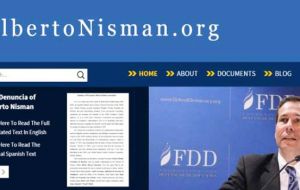 A Washington-based think-tank launched a website and award to honor the memory of late AMIA special prosecutor Alberto Nisman yet its founders raised a few eyebrows as they include someone who has an ongoing court case and regularly spoken ill of Argentina.
Paul Singer, whose hedge fund Elliott Management is currently engulfed in a billion-dollar legal battle against Argentina over defaulted debt, is the second-largest donor to the Washington-based Foundation for Defense of Democracies (FDD).
The website was launched a day after Douglas Farah, a Senior Fellow for the International Assessment and Strategy Center (IASC), gave testimony to the US Senate Foreign Relations Subcommittee on the Western Hemisphere in which he linked Argentina to an effort to help Iran with its nuclear ambitions. Farah's report happens to be one of the leading blog posts on AlbertoNisman.org.
The website, which is a project of the FDD, contains a translated version of Nisman's criminal complaint, accusations, reports, newspaper articles and other documents related to the prosecutor who died days after presenting a criminal complaint against President Cristina Fernández.
Nisman investigated the 1994 bombing of the AMIA Jewish centre which killed 85 people and injured hundreds more. The day after he was found dead in his apartment on January 18, he was to present details in Congress of the information contained in his accusation against the government over an alleged planned cover-up of Iran's alleged role in the bombing.
"AlbertoNisman.org was created to honor the legacy of late Argentine Prosecutor Natalio Alberto Nisman and his tireless pursuit of justice...Mr. Nisman devoted his life to fighting terror in the Western Hemisphere," states the website's mission statement.
According to a US tax form Singer is the second-largest contributor to the think tank, having contributed US$3.5 million between 2008 and 2011, this is followed by business magnate and billionaire Sheldon G. Adelson (a close supporter and contributor to Israeli Prime Minister Benjamin Netanyahu) with US$1.5 million.
Singer already spends millions funding the American Task Force Argentina, which lobbies the US Congress to pressure Argentina to settle its dispute with his hedge fund.
The FDD's mission statement states it was founded in 2001 shortly after the September 11 attacks
There are several well-known conservatives who work on the website, including the editor of the Weekly Standard, William Kristol, syndicated columnist Charles Krauthammer and Ambassador Jeanne Kirkpatrick.
Several of the people involved in the organization have spoken up in the past in favor of bombing Iran's nuclear installations as well as implementing economic sanctions against the country.
The organization also established an award in the name of Nisman, called the Alberto Nisman Award for Courage. The recipient of the award is Manhattan District Attorney Robert M. Morgenthau and he will be given the award on April 15.
"The FDD Alberto Nisman Award for Courage seeks to commend outstanding individuals who exemplify the traits of courage, bravery, and determination that were central to Nisman's life and work," states the website.
A press release published by the FDD last month states that Prosecutor Robert Morgenthau worked for 35 years as a prosecutor in Manhattan and was involved in some of the top national security cases in the country. His law office was instrumental in providing assistance in the application of US sanctions against Iran via its access to global capital financial markets in New York City.
Morgenthau also investigated illegal activities allegedly conducted on the border that Argentina shares with Brazil and Paraguay, allegedly helping uncover an illegal financial system used by Iranian banks to avoid US sanctions. "Like Nisman, Morgenthau's investigation of specific activities uncovered vast networks of money laundering, organized crime, and terrorism," it concludes.