Brazilian museum receives 139 works of art seized from Petrobras corruption scandal
Saturday, March 21st 2015 - 06:36 UTC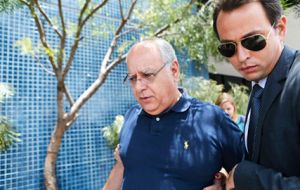 A Brazilian museum received 139 works of art, including a painting by Joan Miro, seized from individuals involved in the corruption scandal rocking state oil giant Petrobras. Works by Brazilian artists Djanira and Heitor dos Prazeres were among the trove that police delivered to the Oscar Niemeyer Museum in the city of Curitiba.
Local media reported that the majority of artwork was seized from Petrobras'former director of services Renato Duque, who was arrested Monday.
He was detained in connection with a kickbacks and political payoffs scheme that allegedly siphoned off 3.8 billion dollars from Petrobras.
Another 64 seized works had already been given to the museum, including pieces by Salvador Dali and Vik Muniz.
After a quarantine period during which the works'condition will be examined, the art will "probably" be available for the public to see, a member of the museum's press team told local media.
Prosecutors say Petrobras awarded inflated contracts to some of the country's biggest construction companies over a 10-year-period, generating a flood of dirty money used to bribe company officials and pay off politicians.
Nearly 50 politicians, many of them congressional allies of President Dilma Rousseff or leaders of her Workers Party, are under investigation.