Petrobras suspends operations in major offshore rig for safety reasons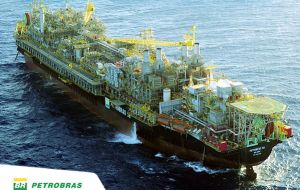 Brazilian state-controlled oil giant Petrobras on Saturday said it has suspended operations at a major offshore platform, citing safety concerns. The P-58 platform, which extracts 106,000 barrels per day, was taken out of service for unscheduled maintenance and to improve its operational efficiency, the company said in a statement Friday.
Petrobras did not specify the problems that prompted the decision, but labor leaders said it came after inspectors with the ANP oil regulator visited the rig to verify worker-safety complaints.
The company said it is finalizing preparations for putting the platform back into operation, but it did not provide an expected re-start date.
The P-58 is one of Petrobras' biggest-producing platforms in the Campos basin, a region off the coast of the southeastern state of Rio de Janeiro that accounts for the majority of the company's production.
Since entering into operation on March 17 of last year, the P-58 has not suffered any accident leading to an operations halt nor any incident causing an environmental impact, Petrobras said.
The shutdown comes less than a month and a half after a Feb. 11 explosion at another platform operating off the coast of the southeastern state of Espirito Santo killed nine and injured 33 others. The cause of that blast has not yet been determined.