Swiss prosecutors have uncovered over 300 accounts suspected linked to Petrobras corruption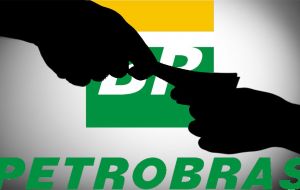 Swiss prosecutors have uncovered over 300 accounts at more than 30 Swiss banks that they suspect are linked to the massive corruption and money-laundering scandal at Brazil's state-run oil company Petrobras.
Switzerland has frozen roughly $400 million in Swiss accounts in the investigation and has begun to return an initial 120 million to Brazilian officials, Swiss Attorney General Michael Lauber said at a news conference in Brasilia.
"We do not tolerate the misuse of the Swiss financial system with corruption or money laundering," Lauber said.
The scandal, involving billions of dollars in kickbacks allegedly skimmed from overpriced contracts with Petrobras, has triggered anti-government protests and calls for the impeachment of President Dilma Rousseff, who was chairwoman of Petrobras' board when much of the alleged graft occurred.
The beneficiaries of the suspect accounts, which are mostly in the name of companies domiciled in Switzerland, are senior Petrobras executives, suppliers, financial intermediaries and Brazilian or other foreign companies that allegedly paid bribes, the attorney general's office said in a statement.
Swiss investigators are looking into eight Brazilians in connection with the Petrobras probe, as well as others as yet unidentified people, it said.
"The release of over $120 million reflects Switzerland's clear intention to take a stand against the misuse of its financial centre for criminal purposes and to return funds of criminal origin to their rightful owners," the statement said.
Brazilian prosecutors have secured commitments for the return of 500 million reais ($154 million) siphoned off of Petrobras contracts through plea bargain deals with suspects charged with corruption, racketeering and money-laundering. They said 182 million reais ($56 million) had been received so far.
The year-old investigation has so far led to 20 indictments of 103 people on racketeering, bribery and money laundering charges, including three former Petrobras senior managers and executives from six of Brazil's leading construction and engineering firms.
Rousseff has denied knowledge of the kickback scheme at Petrobras and has urged a thorough investigation and punishment of those found responsible.