Argentines fly the flag in South Georgia, 33 years ago
Tuesday, March 24th 2015 - 04:36 UTC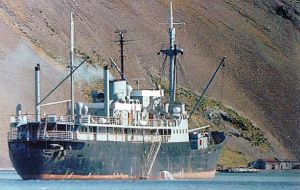 Ushuaia daily Diario Fin del Mundo recalls that 33 years ago on 19 March 1982, the Argentine navy transport vessel ARA Bahía Buen Suceso landed in South Georgia a party of workers on contract to dismantle remains of the whaling station, and on arriving raised the Argentine flag. An incident which was to lead to the full-fledged conflict the following month.
In effect the operation allegedly was a contract between an Argentine junk dealer Constantinto Davidoff and British representatives. However according to the newspaper the Argentine navy saw it as an opportunity to establish a 'secret base' in South Georgia and the strategy was to infiltrate military personnel with the junk workers, making them look as scientists. Two weeks later a contingent of fourteen Argentine marines would join the party to establish a permanent military base in the disputed island.
The thinking was that with the help of winter, the British response would not be forthcoming, since the only presence was that of scientists and personnel belonging to the British Antarctic Survey, BAS.
However it was not long before BAS members came across the vessel unloading equipment, a hundred people working and occupying an abandoned BAS refuge, with the Argentine flag flying.
The British said their presence was illegal and demanded the whole party abandon the island. But the captain of the ARA Bahía Buen Suceso, said the operation had the approval of the UK embassy in Buenos Aires, nevertheless he ordered the flag to be lowered.
Believing it could very well be an Argentine attempt to occupy the island, HMS Endurance that was in the Falklands at the time, was dispatched to Grytviken to definitively dissuade the Argentines and force them to abandon South Georgia.
But, according to Diario del Fin del Mundo, this rather small incident quickly escalated "which forced the Argentine military to advance their plan to occupy the Malvinas Islands". The rest is well known history.