It's official: Uruguay will not receive any more Guantanamo inmates
Tuesday, March 24th 2015 - 04:23 UTC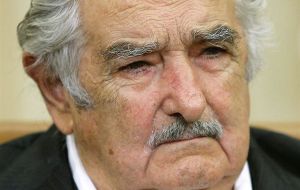 Uruguayan Foreign Minister Rodolfo Nin Novoa said on Monday that Montevideo absolutely will not accept any more inmates from the U.S. prison at Guantanamo, in contrast to the previous government of Jose Mujica, who took in - as refugees - six Middle Eastern men who had been held at the facility.
In remarks to the press, Nin Novoa addressed the issue in responding to a question about whether the government of Tabare Vazquez, which took power on March first, plans to comply with one of the recent requests made by the six former prisoners to receive land from the Montevideo authorities on which to build a mosque.
"It is being studied. What is certain is that no more prisoners are going to come from Guantanamo. That is absolute," he said.
The arrival of the six men - against whom no terrorism or other charges were ever filed and who are considered to be low risk individuals - occurred last Dec. 7 in response to Mujica's commitment to cooperate with U.S. President Barack Obama in the program to close Guantanamo, a detention center set up to house terrorism suspects on the U.S. base in Cuba.
"We have offered our hospitality to human beings who were suffering ... in Guantanamo. The unavoidable reason is humanitarian," said Mujica two days before the arrival of the refugees - four Syrians, a Tunisian and a Palestinian - a move that was harshly criticized by the political opposition, and rejected by public opinion polls.
One of the inmates, Abu Wael Dihab announced on Monday he was planning a hunger strike in front of the US embassy in Montevideo. Before being picked to come to Uruguay, Aby Wael Dihab had been on a prolonged hunger strike (and force fed) in Guantanamo and seems to be the most unstable of the group.
While still president Mujica had to go and talk to the six after it surfaced that they were complaining about housing and refused to get jobs. The situation has not changed since, according to the latest news.
Last week, Obama said that he should have closed Guantanamo when he moved into the White House in 2009, when there seemed to be consensus with Republicans regarding its closure.
His administration is working against the clock to close the detention center before his term ends in January 2017, but the process is meeting stiff opposition from Republicans, who wound up with control of both houses of Congress in the midterm elections last November.
Nin Novoa however confirmed that Uruguay is considering complying with its commitment to bring a second batch of Syrian refuges sometime in mid year, a legacy of the Mujica administration.
"We're considering the issue; we believe this could be completed sometime after the second quarter", said Nin Novoa. The many children of the Syrian families seem to have adapted to Uruguay's customs, but there have been cases of domestic violence among parents.