Pro and against Kirchner rallies on 29th anniversary of 1976 military coup
Wednesday, March 25th 2015 - 06:53 UTC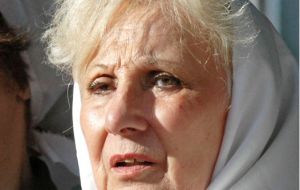 Human rights, political and social organizations commemorated on Tuesday 24 March the 29th anniversary of the military dictatorship that killed anywhere from 9.000 to 30,000 people, marking the beginning of one the darkest period in Argentina's modern history.
Under the slogan "Let's defend the victories and go for more democracy," pro-government groups took part in a ceremony at the emblematic Plaza de Mayo square in the heart of Buenos Aires.
"We continue to demand that the wall of silence is broken in order to find our grandchildren," Grandmothers of the Plaza de Mayo leader Estela de Carlotto affirmed during the rally.
Alongside the Grandmothers, the Mothers of the Plaza de Mayo also participated in the demonstration, alongside the Kirchner couple government-allied social activist groupings such as La Campora, Kolina, the Evita Movement and Tupac Amaru.
Those involved read out a document in the square which highlighted the work the governments of Nestor and Cristina Kirchner have carried out in bringing repressors to justice. The groups, however, also called for the "judicial corporation to accept that civilian participants are also tried and sentenced."
"In the last military-civic dictatorship, the Armed Forces had press corporations, the church, the courts and businesses as partners," the missive stated.
However later in the evening organizations belonging to the Memory, Truth and Justice Encounter (EMVJ) led a separate demonstration which marched from Congress to Plaza de Mayo, with slogans against the government and the judiciary. Among other things the groupings called for the removal of Army chief, General Cesar Milani.
"We will not march with the government, which invokes memory in order to avoid talking about the present, in which they named genocide culprit César Milani as head of the Army," PTS activist and candidate for Buenos Aires City mayor Myriam Bregman asserted.
"The government which maintains Milani is one side and on the other, the judicial caste that clears businessmen complicit of the dictatorship such as Blaquier, Massot or Bottinelli, or Atlántida".
Milani an intelligence expert is accused of having forcibly disappeared a conscript while a young officer in La Rioja in the seventies, and lately of 'illicit enrichment' since allegedly he has been unable to justify his personal assets.
Nevertheless the government of president Cristina Fernandez and allies have defended his nomination as the highest ranking officer and insist in defending him during Congressional questioning.