Falklands' defense expenditure increase' will be taken before the UN, says Argentina
Thursday, March 26th 2015 - 07:48 UTC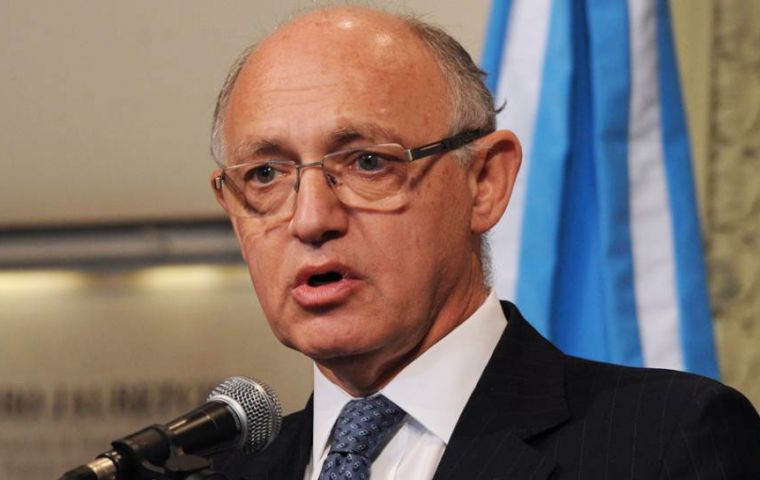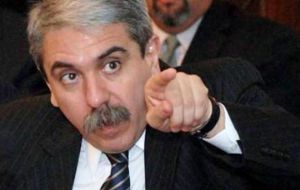 Argentina will take the United Kingdom before the United Nations Decolonization Committee following London's announcement it was increasing expenditure on the Falkland Islands defense, said Foreign minister Hector Timerman on Wednesday.
"Argentina has no interest in being involved in an armed conflict" with nobody, but insists that the UK must comply with the forty UN resolutions and sit to talk about the Falklands/Malvinas sovereignty, added the minister.
"We repudiate the war-mongering and militaristic attitude of the UK", which on Tuesday confirmed before Parliament its decision to reinforce military presence in the Falklands alleging that Argentina remains as "a live threat" to the Islands.
"We are a country with no conflict hypothesis with any country in the world, while the UK is continually on a state of war", argued Timerman.
Finally Timerman said that what really upsets the UK is that "Argentina thinks and acts independently", and countries such as the UK want "the subordination, submissiveness of others, so that one ends mentally colonial, or rather a mentality that accepts you must be a second category country".
On Tuesday UK Secretary of Defense Michael Fallon made a statement before Parliament saying that "the current military presence is broadly proportionate to the threats and risks we face. Our forces in the South Atlantic are... at the level required for defense of the Falkland Islands against any potential threat".
However Fallon said two Chinook helicopters would be recalled to the Falklands by the middle of next year and an enhanced communications system would be mounted at the military base in Mount Pleasant and at Mare Harbor. But the number of personnel will remain at about the current level of 1.200.
Likewise the ground based air defense system Rapier, will be replaced by the end of the decade and furthermore over the next ten years £180 million will be allocated to improve and modernize infrastructure, including military accommodation upgrades and a new primary school.
On Wednesday Argentina's cabinet chief said that Britain's decision to increase its military presence in the South Atlantic is an "inappropriate" move responding to electoral prospects of PM David Cameron's coalition government.
"As they are going to hold elections, they turn to a cheap nationalism keeping all the British society on the edge," Aníbal Fernández said and considered 'absolutely unjustified' Fallon's allegations that Argentina posed a threat to the Falklands.
"Besides being implausible, it results absolutely unjustified to raise the specter of an alleged 'Argentine threat' to increase the British military budget and consolidate the increasing militarization of the Islands."