North Chile heavy rain and flash flooding forces suspension of world's largest copper mines
Thursday, March 26th 2015 - 09:46 UTC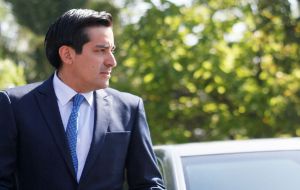 Heavy rains in Chile's northern desert regions have caused mudslides and rivers to breach their banks, leaving residents stranded and forcing top copper miner Codelco to suspend mining operations.
The government's emergency office reported that nearly 40,000 people were without power and almost 50,000 lacked drinking water in the northern Coquimbo and Atacama regions. The Antofagasta region was also affected.
Television images and photos on Twitter showed muddy rivers rushing through city streets, bridges wiped out, and buildings including a hospital flooded.
Interior minister Rodrigo Penailillo said on Wednesday afternoon that a state of catastrophe had been declared and armed forces had been ordered to co-ordinate support operations and take control of public order in the worst affected area.
The "very intense" rains were expected to continue for around another eight hours yet, he said.
Residents of several towns were asked to evacuate. Many roads were cut off and evacuations could only be done via air transport, said deputy minister Mahmud Aleuy.
The normally arid north is home to many of Chile's largest copper mines, which account for about a third of global supply.
Codelco, the world's biggest copper miner, said that mining operations at its Chuquicamata, Ministro Hales, Radomiro Tomic, Gabriela Mistral and Salvador deposits were suspended due to the state of roads and mine access.
Fiber optics had been cut across the northern region, which was affecting communications and could affect flights, said LATAM Airlines' Chilean arm LAN.
The sudden autumn downpour comes after an unusually hot, dry summer that has exacerbated an eight-year drought and left fields parched.
The dry conditions continue in the south of Chile, where firefighters are battling nearly 40 separate blazes that are burning some 14,000 hectares, according to Onemi.
The China Muerta reserve and the Conguillio national park, revered for its forests of thousand-year-old Araucarias, or monkey-puzzle trees, are among the areas affected by the flames.