International summit on oil and gas potential in Uruguay next June
Friday, March 27th 2015 - 07:52 UTC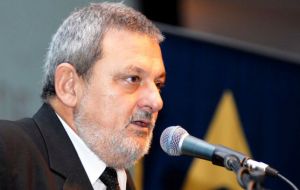 Uruguay's oil and gas Government owned company, ANCAP, will join senior level delegation from international oil and gas operators on 11-12 June 2015 in Montevideo to analyze the potential of a region that has experienced significant advances since 2009.
"The Uruguay Summit will highlight the country's activities, unveil its potential and facilitate much needed networking for the industry", Hector de Santa Ana, E&P Director of ANCAP, said in an interview to IRN.
Senior level representatives from ANCAP will give an overview of the current state of the country's hydrocarbon sector, addressing offshore opportunities, the regulatory framework, HSE standards, seismic data and onshore prospectivity.
The speaking delegation from ANCAP includes: José Coya, President; Hector de Santa Ana, E&P Director; Santiago Ferro, Head of E&P Administration and Contracts; Mariela Fresia, Environment, Safety and Quality Manager; Pablo Gristo, E&P Engineer; and more to be announced soon.
The president of ANCAP, Jose Coya, will give a keynote address on the first day of the Summit. This will be followed by a presentation on the situation of the exploration activities in the country led by Hector de Santa Ana.
Other representatives from the national oil company will discuss exploration investment opportunities in Uruguay; contractual terms for exploration and production activities in the area, including a historical perspective and examples from previous licensing rounds (Rondas), and HSE standards and requirements for exploration.