Uruguay's economy expanded 3.5% in 2014, completing over a decade of sustained growth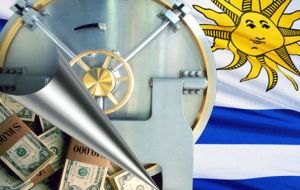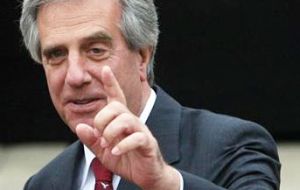 Uruguay's GDP expanded a strong 3.5% during 2014 over the previous year, with positive activity in most sectors of the Mercosur member economy, according to the latest report from the Central bank. The result was in line with government officials expectations of 3% growth last year.
Private analysts had also anticipated a healthy performance despite the significant slowdown in mid year when the economy was steaming ahead at 5.1%. The complicated situation in neighboring countries and Mercosur associates Argentina and Brazil, plus a fall in demand and prices for commodities impacted in foreign trade dependent Uruguay.
The Central bank report indicates that most sectors had a positive performance during the twelve months with the exception of "retail, repairs, restaurants and hotels mostly because of a slowdown in commercial services activities, and construction, since the housing market seems to have reached a plateau".
The most active and contributing sectors to the global outcome, according to the report include manufacturing, exports, transport, storage and inventories and communications because of the surge in telecommunications and other sub-sectors.
"All sectors have seen an increase in activity and positive growth rates, with the exception of construction. The most dynamic sectors were transport, storage and communications and manufacturing industries" underlines the central bank release with graphics to support it.
With this latest report Uruguay has experienced one of its longest and solid growth periods in recent history, beginning in late 2003, following on the banking crisis of 2002 as a consequence of the melting of the Argentine economy. Since then the Uruguayan economy has not ceased to expand speared by the commodities boom and a massive influx of foreign capital looking for higher dollar yields as a result of the US Federal Reserve quantitive easing policies.
However the new government of President Tabare Vazquez has warned that the scenario ahead is not so rosy, and admitted that five years of overspending will have to be drastically curtailed and a balanced budget is essential to keep the economy on a steady, although slower pace, for the next few years. Despite years of strong growth since 2005 Uruguay has experienced significant budget deficits reaching 3,5% of GDP in the last two years.
"This is particularly serious because of the political and economic situation in Brazil with a very much weakened President Dilma Rousseff and in dispute with Congress". Likewise the current populist scenario in Argentina with its protectionist policies and national elections scheduled for next October.