Citibank suspended in Argentina "until it revokes agreement with Griesa and holdout funds"
Monday, March 30th 2015 - 06:47 UTC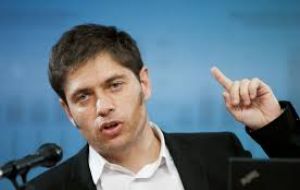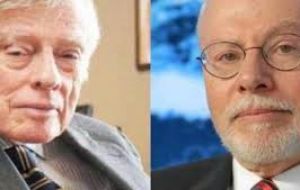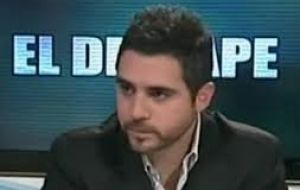 Economy Minister Axel Kicillof said the suspension of Citibank Argentina, ordered by the National Securities Commission (CNV) financial watchdog, will stay in place until the bank revokes its agreement not to appeal US Judge Thomas Griesa's ruling that interest payments on Argentina's restructured local law bonds could not be processed if the bank was allowed to make two one-off payments to help it exit its local custody business.
The official condemned the deal between the bank and the hedge funds or "vulture funds" and said that Citibank is trying to please the 'vultures' and Griesa at the same time but he pointed out that it is leaving its clients (bondholders) helpless.
"(Judge) Griesa in his attempt to extort the country along with vulture funds, has told US Citibank to not let Argentina Citibank to operate with Argentina's public debt securities in Argentina," Kicillof explained in an interview with Tiempo Argentino newspaper. "This is a mess because Citibank has opened a branch in this country and it has to comply with this country's laws."
The "precautionary suspension" was ordered last Friday as the CNV considered that the bank "did not act according to Argentine banking law" following the agreement signed with so called "vulture funds."
The decision was made due to a pact between the bank and a group of speculative funds led by Paul Singer, which led New York district judge to allow a one-time basis payment on bonds held under Argentine law.
Kicillof said that the government has only reminded the bank that it has to comply with local regulations and are not to "sign agreements that break the law" and "we will maintain the suspension until they (the bank's authorities) revoke the agreement".
As long as the suspension stands, Citibank will not be able to operate in the local stock and bonds market, but will be able to continue with its retail activities.
National Values Commission (CNV) president Cristian Girard also reiterated a stinging attack on Citigroup, asserting that the financial entity abandoned its clients by striking an agreement with holdout investors over the processing of Argentine debt services.
"We made the decision to suspend Citibank on a preventative basis until it rectifies this attitude of signing an agreement behind the back of regulators in favor of vulture funds, leaving its clients, for whom it takes care of bonds and has to make sure they are paid, high and dry," Girard said on Sunday.
"It is inexplicable. It is really a decision from Citibank Argentina to defend its own interests to the detriment of bondholders," Girard fired during an interview with a local media.
"[The bank] leaves those who purchase public titles in Argentina in a vulnerable situation. As a regulatory organization we have no choice but to tell Citibank that it is breaking Argentine law," he underlined.
"We cannot allow that to happen, ahead of the deadline for debt services on March 31."