French local elections confirm come back of Sarkozy and containment of Marie Le Pen
Monday, March 30th 2015 - 06:32 UTC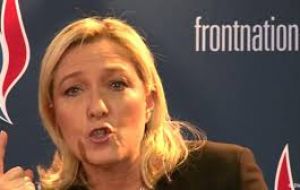 The far-right National Front (FN) made only limited gains in French local elections won by ex-president Nicolas Sarkozy's conservatives. The anti-immigrant, anti-EU party is likely to have won up to 108 local council seats, from holding only one currently. But they will have too few in any one of the 102 "departements" to control any of them, updated Sunday exit polls showed.
Sarkozy's UMP and its allies will take over 66-70 departements, up from 41, while the ruling Socialists will lose about half of the 61 departements they previously held, a poll by CSA for BFMTV said. Other polls had similar results.
Winning two thirds of the departements will be a boost for Sarkozy, whose comeback four months ago at the helm of the UMP is challenged by other party veterans.
"The French people have massively rejected the policies of (President) Francois Hollande and his government," he told party supporters. "The time for change is now."
Marine Le Pen's FN is banking on building a base of locally-elected officials to be better placed to contest national ballots but is struggling to transform its growing popularity into winning constituencies.
Initial exit polls had shown the FN might win two departements, but the party conceded it had failed to do so. It said however the fact that it had won many seats would help spread its ideas.
"In the second round we knew that the electoral system would allow the UMPS accomplices to share the pie among them," Le Pen's father and FN founder Jean-Marie Le Pen said, referring to the UMP and Socialist (PS) parties.