Ushuaia expects 2014/15 cruise season to total over 100.000 visitors
Monday, March 30th 2015 - 10:36 UTC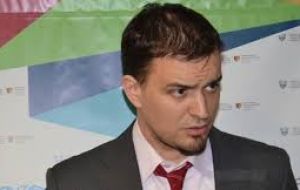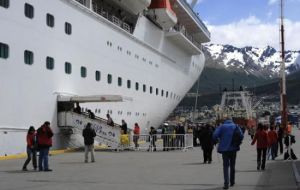 Over 100.000 visitors will have landed in Ushuaia, extreme south of Argentina by the end of the current 2014/2015 cruise season, anticipated for mid April, according to official stats from the Tierra del Fuego Tourism Institute, InFueTur.
"Although we still have a few days left, numbers are encouraging and we expect to end with a 15% increase over the 2013/14 season visitors". said Gianfranco Guardamagna, head of IFueTur. February was the best month with almost 30.000 visitors, mostly foreigners.
By 28 February the number of cruise visitors was 71.581 totaling 251 calls in Ushuaia, and this was particularly significant for Antarctica tourism since most cruise vessels leave from the Argentine city when heading to ice covered continent.
"If we take into account all calls, anywhere from 93% to 95% heading for Antarctica visit Ushuaia first, and this is a great opportunity the city must take advantage of", said Guardamagna.
As to the origin of visitors most come from Europe and the United States although those from Asia are 'leaping' forward. "Four years ago only 1% of tourists arriving by sea were from Asia, but that percentage has now increased to 9%, while Latin Americans numbers are showing an incipient consolidation".
The provincial official said Ushuaia is trying to create conditions so that more visitors will stay overnight as a way of increasing the tourism business with improved transport, short time land tours and gastronomy.
"We have many things pending, one of them is the construction of a passengers terminal, for which we need outside financing; this would help the changeover of passengers, invite tourists to spend more time in Tierra del Fuego", pointed out Guardamagna.
Another area in which Tierra del Fuego tourist operators and government are trying to work and improve is air links to Ushuaia. "We are working for direct flights to the north of Argentina, Misiones, Córdoba, Rosario and even Bariloche, avoiding the Buenos Aires hub. Many national tourists would like to fly in directly to Ushuaia, it's not easy but we are working on that", concluded the head of the tourist office.