Brazil's development bank admits losses of 800m dollars on Petrobras stock
Tuesday, March 31st 2015 - 12:08 UTC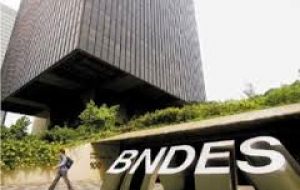 Brazil's state-run National Development Bank posted healthy profits Monday, but indicated losses of some 800 million dollars on its stock in Petrobras, whose market value has plunged on a graft scandal and lower oil prices.
The BNDES bank, which lends to underpin major projects aimed at social development across a range of sectors, said it posted a liquid profit of 8.594 billion Reais (2.7bn dollars), up 5.44% for the third best result in its 63-year history.
But the result was marred by its exposure to a political kickbacks scandal at Petrobras, with dozens of politicians and officials from some of Brazil's biggest firms under investigation for a scheme that allegedly skimmed some 3.8 billion dollars over a decade.
In a statement, BNDES put its Petrobras-related loss at 800 million.
The scandal, which has rocked the government, has wiped tens of billions of dollars off Petrobras' market value and forced it to delay publishing externally audited accounts from last year.
BNDES loans have allowed Brazilian construction firms to roll out major infrastructure projects across Latin America -- but many of the companies are now embroiled in the Petrobras scandal.