Falklands' clearance of Argentine mines planned to restart in mid-September
Tuesday, March 31st 2015 - 08:41 UTC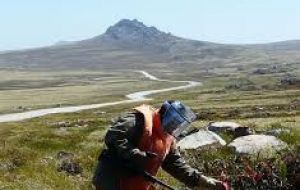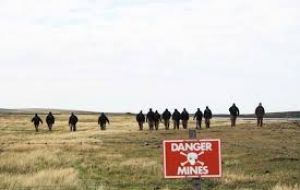 The Falkland Islands program to clear mines planted by the invading Argentine forces in 1982, is scheduled to take a break at the end of April, following a very successful task all along summer according to Guy Marot, Program Manager for the Falkland Islands Demining Program Office, as reported in the FIG's edition of February.
"This latest phase is the fourth and largest, and is scheduled to take place over the next two years", explained Marot who said he was proud of what the demining team has achieved so far in the latest round of demining.
With the experience and research from the previous phases "we are now confident to move on to the more challenging minefield sites along the road connecting Stanley to MPA, since being laid there by the invading Argentine forces in 1982".
Mr. Marot explained that the BACTEC teams have worked hard all summer and the latest round of demining will take a break at the end of April and restart in mid-September. There is scope to continue into the new year but if the current pace can be maintained they hope to have cleared the targeted sites by mid-December.
Mr. Marot told FIG Tree that he actively encourages people (and Falklands' visitors) to ask him the most critical of questions on the process of their work.
The head of the program said there is so much to communicate on how confident they are that all the mines have been removed from the cleared areas, "that questions will only draw out this information to reassure any worries".
BACTEC is a UK based company which stands for: Battle Area Clearance, Training, Equipment and Consultancy Group and for this summer's task, which begun in mid January they had 69 staff in the Falklands, many of them returning for a second and third round of mine clearance.
The company's activities are related to the many areas that were planted with anti personnel and anti vehicles' mines by the retreating Argentine invading forces between April and June 1982, or to defend positions against the advancing UK troops. Argentina is believed to have brought 25,000 anti vehicle and personnel mines to the Falklands during the 1982 war of which 5,000 were accounted for.
Between 2010 and 2012 land release operations carried out by Bactec helped reopen some public spaces close to the capital Stanley. The clearance represented some 6% of mines with more than 18,000 mines still in the ground on both East and West Falklands.
British forces laid no mines during the 1982 war, however the British Government has the legal responsibility for the removal of land mines placed by Argentine forces under the Ottawa convention.
This summer activities and next year's are funded by the Foreign and Commonwealth Office.