Unions bring Argentina to a halt over income tax and promise more industrial action
Tuesday, March 31st 2015 - 05:44 UTC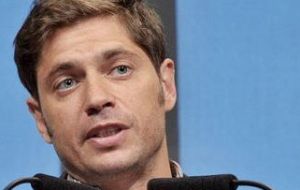 Argentine Labor unions will carry out more strikes after a 24-hour walkout Tuesday, if the government doesn't heed their demand for less tax pressure, a union leader said on Monday."The measures of force are going to increase if (the government) continues with the provocations and without giving us a response to our demands," trucker union boss Pablo Moyano said to a local radio station.
Moyano's truckers and about 20 other unions will walk off the job Tuesday, bringing to a halt banks, public transport, garbage collection, schools and other services.
With inflation running at an annual 35% many workers have seen their salaries rise above this threshold to expose them to taxes they previously didn't pay and strip them of social welfare benefits such as child subsidies.
Moyano said that of the 220,000 truckers in his union, 80% pay income taxes.
Moyano spoke a day after Economy Minister Axel Kicillof said the minimum income tax threshold was "at a very good level" and that he believes the strike is politically motivated.
"I believe that the income tax minimum level is fine as it is because it has been strongly adjusted over the last two years," the minister affirmed, while holding that that tax progression levels could be discussed given the "trickery" of media outlets who suggest the measure affects all workers.
The minister reiterated that the tax "affects the highest-earning minority," around 850,000 of 11 million registered workers in Argentina, in an interview with Tiempo Argentino.
"This is not an Argentine invention. It exists in many countries, in United States, in Scandinavian countries. It is logical for those who earn most to make their contribution to public policies which feed social plans," he said.
The levy is scaled progressively according to salary, with an upper rate of 35%, and has reached workers grouped in the strongest unions who have claimed in recent years raises of around 30% annually in collective bargaining negotiations.
A presidential election will be held Oct. 25 and the ruling coalition of President Cristina Fernandez, who cannot run for a third consecutive term, is facing a potential loss to more conservative parties.
In response to Kicillof, Moyano said he wants talks with the government, but added that he doubts "they will accept or listen to a legitimate demand."
Cabinet Chief Anibal Fernandez said Monday in a televised press conference that he would meet with transport companies later in the day to discuss ways to provide services during the strike.
"There are many people who want to work and if they are deprived of transport then they cannot work," Fernandez said.