"Argentina poses no military threat to Malvinas. We need dialogue", says Ambassador Castro
Friday, April 3rd 2015 - 06:32 UTC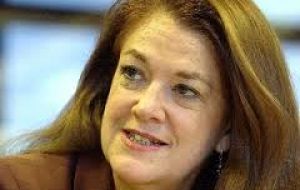 On the occasion of the 2nd April, when Argentina commemorate the veterans and those fallen in the Malvinas conflict, and following the UK government's recent announcement to increase military spending in the South Atlantic, the Embassy of Argentina wishes to reiterate the following statements from Ambassador Alicia Castro.
"Argentina does not pose a military threat to the UK or to the inhabitants of the Malvinas Islands. The alleged "threat" reported by the British government is an excuse to justify an increase in the defence budget. There is currently a military base with 1,200 soldiers on the Malvinas, which, compared to a civilian population numbering nearly two thousand, makes them one of the most militarized areas in the world. The UK Government has recently announced a reinforcement and modernisation of military infrastructure on the islands, which will require an investment of 180 million pounds to be spent over the coming years, in addition to a declared annual budget of 70 million. In a context of drastic cuts to health, education and social benefits, many people do not want to see their taxes invested in defence spending, especially if it is to maintain a costly military base on some remote islands, to prevent an invasion that will never occur. These funds should instead be used for the benefit of the British people to tackle unemployment, invest in education and healthcare, and broaden social inclusion".
"Argentina will never ever again go to war over the Malvinas Islands. It was the brutal dictatorship that ruled our country in 1982 that led us into the conflict, in an attempt to cling on to its eroding power. Meanwhile, Margaret Thatcher prevented a peaceful solution in order to gain an electoral boost. Today, our country lives under a democratic system guided by the principles of truth and justice, which ascribes a central role to human rights. It is striking that the British government that negotiated with the military dictatorships between 1966-1973 and 1976-1982, is today refusing to talk to a democratic and popular government".
"The best way to remember and pay tribute to those who died in the war from both sides is to promote peace and dialogue, settling the dispute through bilateral negotiations, as called for by the international community in more than 40 United Nations resolutions. The United Kingdom and the Argentine Republic have the opportunity to set an example to the world by resolving the Malvinas Question through peaceful and diplomatic means. Above all, we have the obligation and the responsibility to not leave the dispute and its consequences unresolved for future generations".